Watch: How clean and tidy City's First Citizen's ward is!

Proposed smart city viz-a-viz habits of garbage dumping: any where–every where!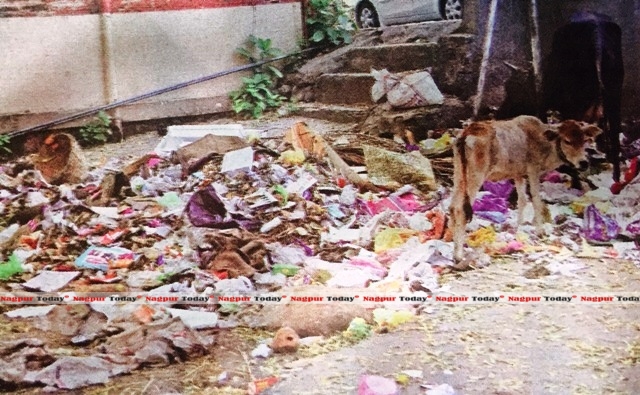 Nagpur: The NMC has vehemently launched cleanliness drive in the city, but the Mayor's own ward is out of the race for cleanliness. The mayor has been receiving complaints from citizens regarding unhygienic conditions of various wards/ prabhags, but what can be expected of him when his own ward/ prabhag is not clean and tidy.
Mayor Praveen Datke represents the NMC from Prabhag No. 41(A) while Prabhag 41(B) is represented by corporator Prabha Jagnade. About three months must have passed since the Rambhau Ruikar Road area is bearing a shabby look with its dirty nullah adding to it (look). The Citizens of the locality can hardly change their habits of dumping garbage and dirt on the places which their whims of liberty find most suitable.
The nullah has become so much easy-to-access that the citizens of nearby Bhaldarpura Ward dump domestic dirt (kachara) and even waste pieces of animal flesh into the nullah. Citizens complain that the garbage-collecting vehicles of M/s Kanak Resources never visit their areas. According to them, the hand-cart (ghanta-gadi) puller visits their areas to collect the garbage, but he does not have a regular schedule of visits. Thus, they are left with no option but to drop garbage by the side of nullah. Citizens observe, when Datke was a corporator he used to take care of hygiene of the area. But since he has become Mayor of the city, he has no time.
Sanitation Inspector operates from Datke's house
The sanitation of Mayor's ward comes under zonal officer Prakash Bamborde, and his Sanitation Inspector Govind Khaire does inspect the ward every morning, but satisfactory measures of sanitation are lacking. Citizens complain that after regular rounds of inspection, the Sanitation Inspector reaches the house of Datke, and functions from there only. The Inspector happens to be the office bearer of Safai Mazdoor Union, and so his subordinates do not seem to be sincere. Citizens observe that before becoming Mayor, Datke used to take care of sanitation and hygiene of his ward, but not now. They even crave for his sight, so busy he has become.
Sanitation not done since May
The nullah was cleaned in the month of May, and a lot of sacks and plastic bags were removed from the nullah.  When the filth from nullah was deposited on its banks, it again took several days to shift it from there. Meanwhile, the garbage dumping again started in the nullah, and the cleanliness drive again got punctured. The nullah originates from Santara Market, and so, it carries forward the garbage of fruits from Santara Market. As a result cows and pigs gather in the nullah and add to enhancement of unhygienic condition. The pigs and other animals pose threat to children as well.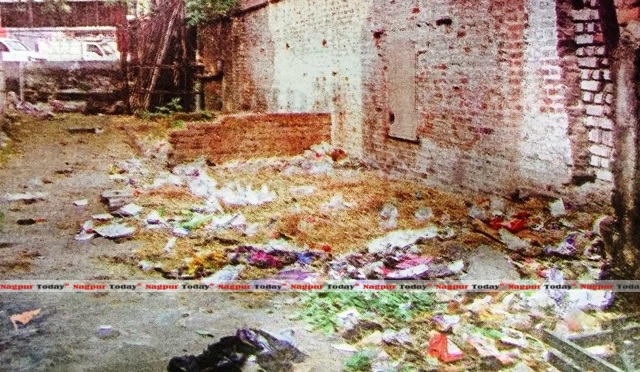 Menace from drunkards and thieves
Due to apathy of NMC, the thieves and drunkards move around nullah to pick up copper and metal wire-pieces from nullah.  They collect these things to enjoy liquor consumption. In the course of search from copper wire pieces, they spread the filth of nullah on road.
However, Mayor Datke admits that he has not been able to pay attention to his ward and ward-people, and as a result, the situation of ward has deteriorated. He has agreed to meet the complainants and sort out their problems.