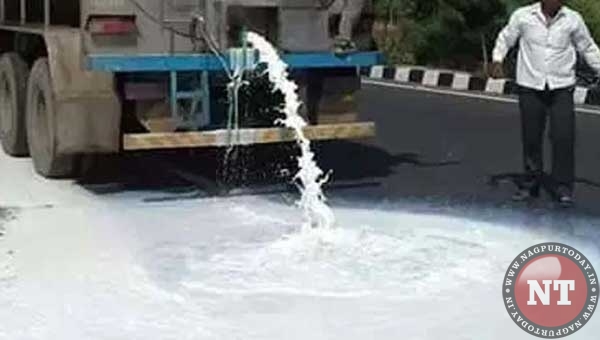 Nagpur: The opposition parties, particularly the Congress and the NCP on Monday virtually stalled the proceedings of the State Assembly and after two short adjournments of 10 minutes each, they staged a stormy walkout in protest against the government's "casual approach" on milk producers strike in the state.
It all started with Opposition Leader Radhakrishna Vikhe-Patil and group leader Ajit Pawar (NCP) moved an adjournment motion demanding suspension of stipulated Question Hour and taking up discussion on Milk agitation. The Speaker Haribhau Bagde did allow them and Vikhe Patil demanded government should give Rs five per litre subsidy. He accused the government of not honouring its word given to Milk producers after a joint meeting with them.
Vikhe-Patil said government has not taken a firm decision on Milk powder and should fix its price at Rs 50 per kg. The Milk producers producing Milk powder have not been benefitted at all. He demanded that Milk price should be enhanced to Rs 30 per litre. He took a dig at Shiv Sena members why they are keeping mum on such an important issue concerning thousands of Milk producers. Sena was ready to criticise and attack own coalition government over Green Refinery at Nanar but not talking about Milk agitation Ajit Pawar also joined the issue with Vikhe-Patil saying the Milk producers were in distress due to inadequate prices. Prithviraj Chavan (Cong) and Jayant Patil (NCP) also spoke on the issue. But soon Opposition Members stormed in to the well of the House and raised slogans. Speaker Bagde adjourned the House for 10 minutes. When the House reassembled within seconds Panel Speaker adjourned the
House for 10 minutes.
After second adjournment, Minister for Co-Operation, Subhash Deshmukh and Minister for Dairy Development Mahadeo Jankar tried to convince the agitated Opposition. Deshmukh informed the Assembly that the government has not reduced the MRP of milk in the State and the Milk Producers Co-Operative Federations are to be blamed for the mess.
Speaker fed up with the continues disruption in the House said a meeting with Chief Minister and all concerns including Opposition benches was convened on July 10 and if required he would direct the government to convene another meeting tomorrow to discuss the issue threadbare. Sunil Prabhu (Sena) and Anil Bonde (BJP) also spoke on the issue.
Not satisfied with the replies, Congress, NCP, PWP staged a walk out of the House.