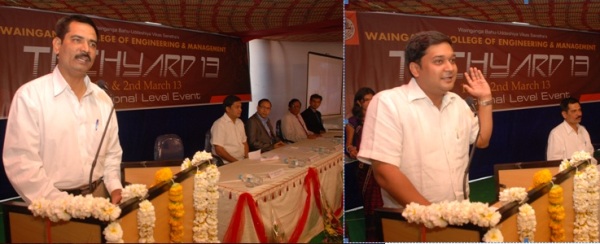 The two days National level Technical Festival "Techyard-13" has been inaugurated at the hands of Shree. Ashok kumar Verma ,Director, Airport Authority of India ,Nagpur in  Wainganga  college of Engineering & Management, Ashok kumar Verma elaborated very well about what Techyard means. Any engineer has to introspect and realize who he is ? He also narrated the role and importance of an Indian engineer for the development of our country and world.Dr.M M Gadegone (Director, WCEM) Presided over the function and elaborated various initiatives at WCEM. On this auspicious occasion Prof.Somdatta karanjekar were present.
Prof.Amol Morankar(Convener,Techyard-13) narrated the success stories of last two edition of Techyard.He also briefed on Techyard, which is a national level technical Symposium. Reforms are being Inculcated in this year events so that Technical events are made more innovative and attractive. This year again Techyard got overwhelming response from various Engineering and Polytechnic colleges of Maharashtra and Its near state. The event has achieved unique identity from its inauguration style in a technical way ,when chief guest inaugurated the Techyard-13 by making the green signal  and burning crackers through a wireless remote control. This system was developed by college students.
The students from various colleges participated with lots of Enthusiasm in events like Reflection(Paper presentation Competetion) ,Lan Gaming, Circuit Cirque (Bread Board), Blind C, Treasure Hunt ,etc. The competitions have not only encouraged Participants but also have sparked more innovations in them. The Techyard has set a bench mark  by holding competitions of a high technical cadre Inauguration Ceremony were anchored by Parag &  Anshula Khobragade. Akshay Jungle Proposed the Vote of Thanks.