VTA submits memorandum to CM on LBT

Also for  VAT Amnesty Scheme, Interest on Corp House Tax and Incentives for Gadchiroli District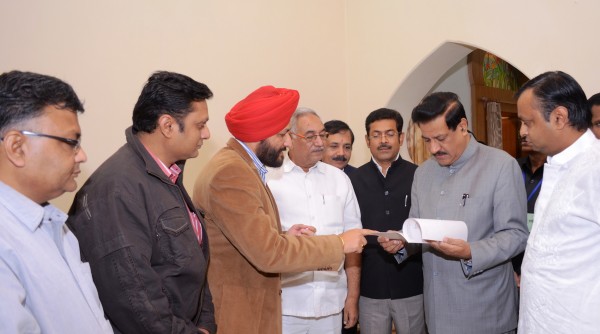 Nagpur News:
A delegation of Vidarbha Taxpayers Association (VTA) led by its president J. P. Sharma met Chief Minister Prithviraj Chavan and submitted detailed memorandum on various issues concerned with taxpayers of the State. VTA vice president Ramkishan Ojha briefed CM about activities of VTA.
VTA president J. P. Sharma greeted CM by handing flower bouquet and submitted gratitude for clearing long pending demand of Nagpur by deleting No Shopping Regulation from DCR 2000 and similarly for enacting accountability rules "Maharashtra Prevention of Delay in Discharge of Official Duties Rules, 2013".
Tejinder Singh Renu, secretary VTA appealed CM that 2% interest being charged per month on delay in payment of Corporation House Tax is extremely high and either should be withdrawn or rate be reduced. Even revenue departments charge interest ranging from 12 – 18% and Corporation being service orientated department concerned with every common man, delayed interest should not be more than 1% per month and accordingly appropriate amendment must be carried in The Maharashtra Municipal Corporation Act.
Renu also invited kind attention of CM that from revenue figures so far we have enough evidence to prove that from switching to LBT from octroi is adding loss every day to Corporation's exchequer. Under the present format of bring material in the city without check and pay LBT in next month before 20th will always deliver short revenue.
He submitted example that admittedly 90% of those travelling abroad are wealthy people, so if customs department like LBT withdraws check at airports and asks passengers to take their goods home and later in next month pay custom duty; hardly few people would deposit. We have enough incidents, where just to avoid mere toll tax; many influential people have resort to taking law in their hands. Hence LBT has to be linked with some other tax format.
Ramkishan Ojha, vice president of VTA informed CM that VTA had sent memorandum to Central Government urging Government for special package of various tax incentives for Gadchiroli and fortunately, Prime Minister Office responded positively to our plea as VTA received a letter from PMO dated 29.10.2012, wherein VTA's demand for tax incentive packages for Gadchiroli to curb Naxalism has been considered for and accordingly PMO has sent memorandum to Secretary, Department of Industrial Policy and Promotion, Ministry of Commerce and Industry, New Delhi. Hence State should also pursue Central Government for the same as incentives would attract investments in this disturbed area which shall bring peace with development of the region, thereby increasing employment to the local youths.
J. P. Sharma requested CM to declare Composite Scheme with rate of 1% as applicable now on under construction flats bought between 20 June 2006 and 31 March 2010 as tax rate derived varies from building to building does creating complicity amongst flat purchasers and leading to further litigations. Moreover in lines of current union Finance Act, wherein amnesty scheme for Service Tax – 'Voluntary Compliance Encouragement Scheme' where defaulter may avail the scheme on a condition that he files an affidavit on truth and declare his liability, whereby interest, penalty and consequences shall be waived. Our State situation of sales tax is more or less the same, hence similar amnesty scheme should be proposed by State Government to avoid plenty of future litigations.
After hearing patiently Chief Minister Prithviraj Chavan said, reduction in interest of corporation tax shall be considered after discussing issue in length and for LBT, Government is ready to link LBT with Sales Tax, however mayors of various cities are opposing it, if all mayors agree for linkage with VAT, Government will do it immediately. Incentives for Gadchiroli will again require detailed exercise, however this is good issue. Chavan also said that for VAT amnesty, he'll speak over this with Sales Tax Department and appropriate decision shall be taken soon.
Members of VTA present in delegation were Hemant Trivedi, Pravin M. Agrawal, Ashwin Agrawal and Rajesh Kanoongo.