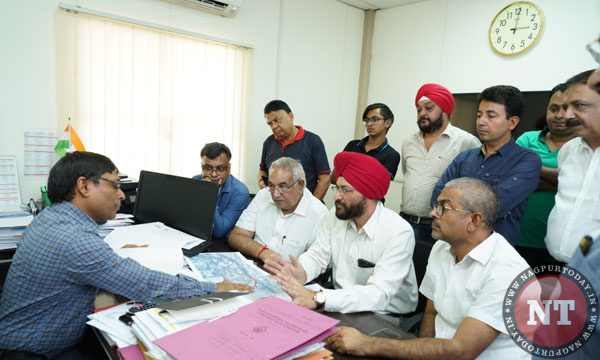 Nagpur: Vidarbha Taxpayers Association (VTA) is delighted and submits gratitude to Union Minister Nitin Gadkari for allotting traffic planning near Nagpur Railway Station to MahaMetro, as they are surely a more committed and well qualified agency involved in shaping our Orange City for future ease of the citizens.
As VTA has been spearheading this cause since last many years, they didn't missed this opportunity too & VTA delegation led by its President J. P. Sharma met Brijesh Dixit – Managing Director & Mahesh Kumar Agrawal – Director Projects of Nagpur Metro Rail Corporation Limited (NMRCL) and submitted various proposals VTA had submitted to administration so far for ease of this area & free flow of traffic.
Tejinder Singh Renu – secretary of VTA before presenting options prepared by VTA specifically clarified that we are not a professional or technically qualified traffic expert organisation, however are concerned citizens and taxpayers, but any subject in public interest, we study with our limited knowledge and try to submit alternatives to the administration which takes the issue on priority with hope of early solution.
Renu submitted that initially in 2013, VTA had proposed solution of increasing the square size of Jai Stambh Square along with its slight relocation; however with changing scenario of traffic below and completion of Phase I of Ram Jhula in 2015, VTA suggested of constructing Phase II in such a manner that it surpasses the Jai Stambh Square by flying over it and landing at Kingsway.
However now that Ram Jhula Phase II is also about to opened for traffic soon, VTA is quite sure that soon Jai Stambh Square will become most chaotic place in Nagpur; thereby prepared another alternative wherein to reduce traffic load on Jai Stambh Square VTA proposed two separate flyovers of adequate size, starting from Kingsway to Railway Station parking and another starting from Railway Station parking to Ram Jhula Phase II, which will totally eliminate two traffic movement.
VTA also demanded complete or partial demolition of existing flyover in front of Railway Station as it's most likely the only flyover in the world which actually doesn't fly over anything and the shop keepers below should be relocated appropriately. In this process administration may have to acquire some front margin of SBI Main Branch, some land on Railway Division Office and likewise.
Renu said that the main advantage of this proposal is that we can eliminate crossing junction on Jai Stambh whereby the divider in between can continue without break from Ram Jhula to Kingsway, by this we'll never have traffic chocking at this place. For Pedestrians underpasses are recommended. VTA also submitted suggestions on RCC multi level parking with solar panels over the terrace on MS steel, space for Radio Taxis, Hotel Project of PPP mode to recover extra cost.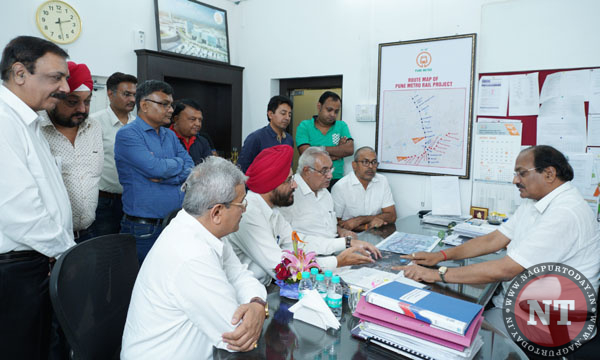 MD Brijesh Dixit appreciated the efforts of VTA and said that MahaMetro is presently studying the issue by collecting requisite data and will soon plan best possible option. He also assured to keep VTA involved in planning process as & when it's required.
Also present were Mahesh Gupta from NMRCL and VTA delegation consisted of V.P. Ramkishan Ojha, Jt. Sec. Hemant Trivedi & Amarjeet Singh Chawla, Members Saqib Parekh, Rajesh Kanungo, Krishna Dayma, Rohit Kanungo, Ashwin Agrawal & Govind Patel.