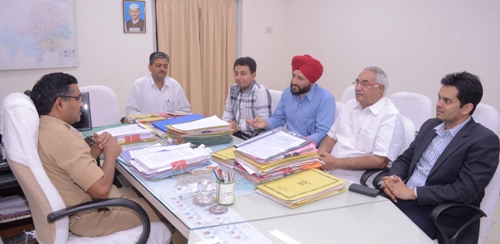 Nagpur News.
Recently Nagpur Traffic Department reported that 310 persons died in Nagpur roads due road mishap in 2013 & shamefully about 130 were motorcyclists who lost their lives due to head injury.
Taking this issue on priority, a delegation of Vidarbha Taxpayers Association (VTA) led by its President J. P. Sharma met Joint Commissioner of Police Sanjay Saxena and submitted memorandum requesting mandatory enforcement of Sec 129 of The Motor Vehicles Act, 1988 – wearing of protective gear for two wheelers in Nagpur. Also present during meeting were Sunil Kolhe, Deputy Commissioner of Police Headquarters.
J. P. Sharma said fortunately for headgear we already have a settled Section 129 in The Motor Vehicles Act, 1988 – Wearing of protective headgear, however just we have a law, it does not mean the problem as been addressed.
Tejinder Singh Renu, secretary of VTA submitted that in 2012 Ministry of Home Affairs through National Crime Records Bureau had published report on 'Accidental Deaths in India' wherein it is reported that total of 4,40,042 'road accidents' cases were recorded during the year 2012, which accounted for 1,39,091 deaths.
Renu said, Maharashtra had reported 62,095 accidental deaths and remained at the top with nearly one-sixth (15.7%) of total accidental deaths reported in the country and unfortunately Nagpur also figures in the national graph at 11thposition with Jabalpur leading the list.
VTA also submitted record from 'Global Status Report on Road Safety' published by World Health Organization (WHO) in 2009, wherein India is leading in Road Accidents. 
VTA requested Police Department that in order to save few lives, Sec 129 of The Motor Vehicles Act, 1988 may please be enforced in Nagpur; however this may carried gradually so that immediate order doesn't create panic & chaos. Shopkeepers as well as Motorcyclists should get apt time to procure and buy helmets having Bureau of Indian Standards (BIS) approval well in time.
Joint Commissioner Sanjay Saxena assured VTA that police department had already started action on this and department would first educate citizens as well as students of schools and colleges and thereafter gradually the act would be stringently enforced. He requested citizens that use of helmet is for their own good and hence motorcyclists should suo-moto follow this law and parents should also ensure that their children do not ride two-wheelers with appropriate safety gear.
Also present in the meeting were Executive Body Members of VTA Saqib Parekh and Rohit Agrawal.