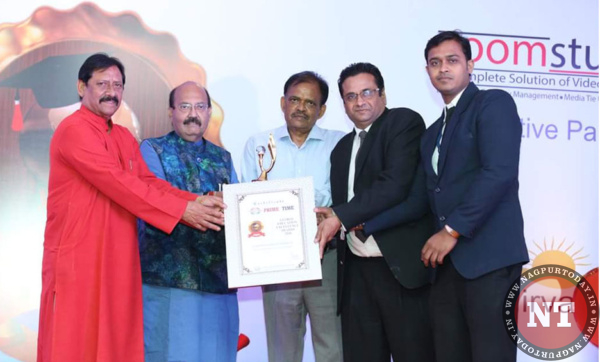 Nagpur: The Global Education Excellence Awards, 2018 was organized on 29th April, 2018 at Hotel Park, Parliament Street in New Delhi. This Summit showcases the high academic goals and outstanding achievements through innovation, leadership, dedication and commitment towards learning and contributing to the better tomorrow. According to the official website, the idea behind establishing Global Education Excellence Awards 2018 is to recognize significant contribution in the education sector. It is a small token of appreciation from Prime Time to honor the doers and pioneers of the Education sector fraternity, in a spectacular style.
The Vidarbha Institute of Technology (VIT) is awarded as the "Best Engineering College in Nagpur" by Prime Time Research Media Private Limited during the award ceremony of Global Education Excellence Awards held in New Delhi. The key factors that are observed by the scrutiny committee include College and Principals track record.
VIT is approved by AICTE, New Delhi and Government of Maharashtra & affiliated to RTM Nagpur University, Nagpur. The college had recently received Grade 'B' by NAAC (National Assessment and Accreditation Council) committee. There are so many other optimistic things as noted about college includes the gradually increasing student placement records, extracurricular activities, participation of faculty in different monitoring committees, admission ratio per year, Industrial MOU's, facilities as provided by the college to students and employees both.
Dr.Sanjay S Uttarwar, Principal along with Prof.Nilesh P Bodne, Vice-Principal had gone to New Delhi to receive said prestigious award. Dr.Sanjay S Uttarwar is recipient of "Bharat Vidya Shiromani Award" & "Global Excellence Award" for 2017. He is a renowned academician of the region with glorious past records. He is having 30 years rich academic & industrial experience working with renowned educational groups of Maharashtra.
Jitesh N. Maheshwari (Chairman,VIT), said, "This is a very proud moment for us. We have set a benchmark for ourselves. This certainly attests that continuous hard work proves fruitful." Dr. Pooja Maheshwari (Secretary, VIT) along with Dr. G.S.Natrajan (Director, VIT) and Dr. Sanjay Uttrwar (Principal, VIT) also appreciate the excellent work that is being done by the team of VIT.