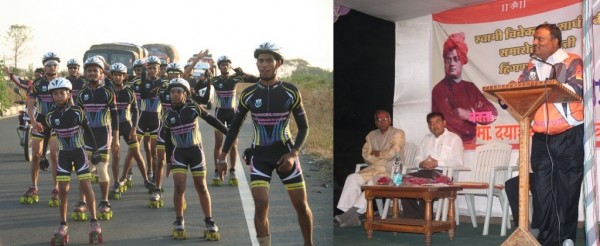 Nagpur News:
The skaters have crossed Butibori, and are nearing Khapri Naka.
The rally started from Pandharkawda at 10:00 am in morning after taking darshan at the Jagadamba Devi Sanstha, Kelapur. The rally moved on its way to Hinghanghat, and the skaters were given a grand welcome at Pohana village where hundreds of people gathered on the highway to garland the skaters; the rally moved on in Pohana village to Rudreshwar Mahadeo Temple. Former Member of Parliament from Wardha Suresh Waghmare,  Omprkash Motariya, Ramchandra Rao Pawar,  Gangadhar Kohle,  Madhavrao Chandankar,  Prakashchandra Nahar,  Raju Gatagate,  Prashant Pawar,  Anna Katare,  Prabhakar Burde,  Pundlik Tijare were present.
From Pohana the rally moved on to Wadner, where hundreds of people were present on the highway to garland the rally, led by Vasantrao Ambatkar.
Today, the rally will move on to its final destination, Nagpur. The mayor of Nagpur city Anil Sole will give a warm welcome to the rally at Khapri Naka at 4:00 pm. From there, the rally will enter its home city Nagpur and will move on to the streets of Nagpur city from Sonegoan Airport to Wardha Road, Ajni Square, Panchsheel Square, Variety Square, main road Sitabuldi, Loha Pul, Cotton Market Chowk, Santra Market Road,  Poddareshwar  Rammandir, Mayo Square, Hanspuri Road, Ganjakhet, Teen Nal Chowk, Shahid Chowk, Tanga Stand, Chitar Oili Chowk, Bachraj Vyas Chowk, Chitins Park, Agrasen Chowk, Lal Imli Chowk  to its final destination Gandhibag Garden.  A grand mahanatya has been arranged at Gandhibag Garden on the life of Swami Vivekanand. After public felicitation of the rally, the play (mahanatya) will start at 6:00 pm. The organisers appeal to the people of Nagpur city to welcome this rally and the children who made this rally of1948 km rally a grand success. .