Nagpur: Former Chairman of NMC's Standing Committee, Virendra Kukreja, received a warm and enthusiastic welcome at Nagpur Airport after being appointed as the State President of the Bharatiya Janata Party's (BJP) Traders Front. This development has sparked immense joy and excitement among the Sindhi society and workers.
Virendra Kukreja, a popular BJP leader, social activist, and prominent businessman in Nagpur, arrived at Nagpur Airport late at night, where he was greeted with a lively reception by the Sindhi community and activists, complete with the beating of drums and cymbals.
Virendra Kukreja's appointment as the State President of BJP's Traders Front has garnered significant attention in Nagpur and the surrounding regions. The Sindhi community and workers expressed their joy and enthusiasm by giving Kukreja a rousing welcome, highlighting the significance of his appointment within the community.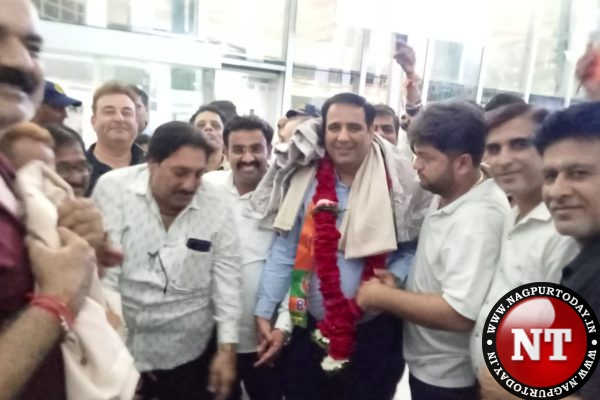 As a well-known BJP leader, social activist, and successful businessman in Nagpur, Virendra Kukreja's rise to the position of State President holds promise for the State Traders Front and has captured the attention of the local political landscape.
Virendra Kukreja's reception at Nagpur Airport as the newly appointed State President of BJP's Traders Front was marked by a spirited display of support and celebration from the Sindhi community and activists. This appointment represents a significant development in the political and social scene of Nagpur and underscores Kukreja's influence as a prominent leader and businessman in the region.
As soon as he reached Jaripatka from the airport, various organizations welcomed Kukreja with bouquets of flowers.
Those who welcomed him include Rajesh Batwani, Sanjay Wadhwani, Daulat Kungwani, Pramila Mathrani, Ghanshyam Godhwani, Shankar Bhojwani, Anil Makhijani, Tinku Malik, Satish Anandani, Shankar Karemore, Hitesh Bhojwani, Ravi Chandwani, Ganesh Bahoria, Sunil Parwani, Kishan Lulla, Jagdish Vanjani, Om Shewani, Rajesh Dhanwani, Babu Kishore Dhanwani, Mahesh Chawla, Hitesh Dewani, Pooja Hirasinghani, Arvind Thawkar, Vijay Tambe, A.K. Sadhwani, Kiran Samarth, Rajesh Bhat, Dholwani, Ravi Jeswani, Kishore Kevalramani, Kamal Mulchandani, Mukesh Sadhwani, Ankush Chawla, Seema Meshram, Sanjay Hemrajani, Amar Mayani, Chirag Gulshan Datre, Ravi Wadhwani, Kishore Godhwani, Kumar Godhwani, Kumar Godhwani, Kumar Godhwani. Lalwani, Suresh Jai Sajwani, Ghanshyam Lalwani, Girish Manjani, Tahiliyani, Nikki Chawla, Raju, Hitesh Chandwani, Mahesh Batheja, Shyam Manwani, Dabboo Kewalramani, Amar Daryani, Shyam Jeswani, Devanand Mota and others.