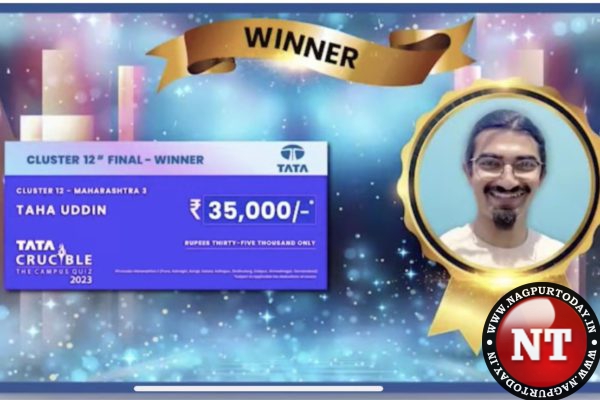 Nagpur: The much-anticipated Tata Crucible Campus Quiz 2023, India's foremost business quiz for campuses, garnered an impressive response with over 1.2 lakh registrations from students across the nation in its 19th edition. The event witnessed Nagpur's Taha Uddin emerging as the winner of the West Zone.
In the cluster final encompassing Maharashtra & Goa, the audience witnessed an awe-inspiring performance by Taha Uddin, representing RTM Nagpur University. His confidence was palpable as he played with unwavering certainty, securing an impressive score of 450, leaving the closest competitor at 50.
For his exceptional achievement, Taha Uddin from RTM Nagpur University was awarded a cash prize of Rs. 35,000. This victory propels him into the nation's top 8. Taha is set to represent both the state of Maharashtra and the expansive West Zone of India in the National Finals scheduled to be held at the Taj Mahal Palace, Mumbai on the 10th of September 2023.
This historic win marks the first time in the annals of the quiz that RTM Nagpur University has qualified for the National Finals, surpassing esteemed institutions such as IIM Ahmedabad, IIM Indore, and NIT Raipur in the Zonal Finals.