Vilas Muttemwar files nomination from Nagpur, Mukul Wasnik from Ramtek amidst fanfare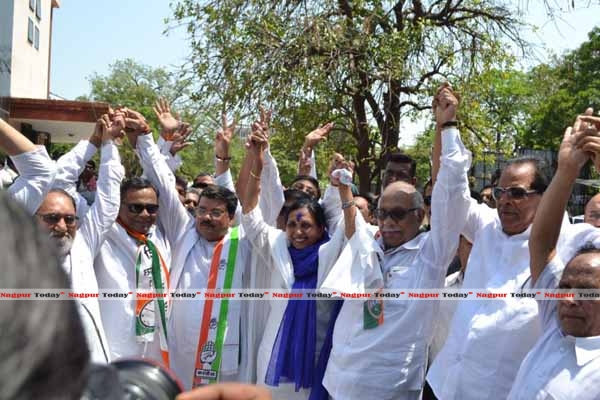 Nagpur News.
The city geared up to witness the election fair this season with filing of nomination from the candidates of two big parties – BSP on Thursday and then Congress on Friday. On Thursday both serving Congress MP Vilas Muttemwar and Mukul Wasnik filed the nomination from Nagpur and Ramtek respectively. Large number of Congress workers gathered outside Collector's office here in a massive display of party's strength.
Sporting the cheering smile, Muttemwar looked all confident to win as he went up to file his papers at the central election office. Similarly Wasnik too looked enthusiastic after he received astounding response from his partymen who crowded in hundreds to register support for their leaders.
The rally started from RBI Square where both garlanded Ambedkar's statue. They were supported by 600 partymen.
Among the prominent people present on the occasion include senior Congress leader Satish Chaturvedi, Saoner MLA Sunil Kedar, Vikas Thakre, Kamlesh Samarth, Ashok Dhawle, Abha Pandey, NCP's Ajay Patil and Sulekha Kumbhare
The crowd at one time went crazy and the extra police bandobast had to be deployed in order to keep the party workers at pace.
Talking to Nagpur Today, Muttemwar said he did not think of any competition from any of his rivals in this election. He told that new entrant AAP did not have any magic wand and hence no surprise could be expected from them. He recalled an occasion when AAP made allegations against him and later backed from their statement. This showed AAP's indecisiveness, he added. Muttemwar also said that BJP too does not fit for competition as compared to Congress which has the experience of 128 years in power. About Modi, he said that the wave was just media generated and nothing short of mere eyewash.
When asked about the relief package for the recent hailstorm and rain affected farmers, he informed that that their government at the Centre has announced Rs 2000 crore compensation for the affected farmers which is the biggest till date. When asked that only Rs 700 crores were disbursed, he said that the calamity is quite grievous and it would take stages to complete the package. However, he added, farmers would remain their top priority.
Addressing the scribes, Mukul Wasnik came down heaviliy on BJP's Prime Minister candidate Narendra Modi saying that Modi has lots of attitude and ego, and it was clearly evident during his visit to Wardha. He said that those who do not have confidence speak in such a manner. "Barring Gujarat and few states, Modi has no existence anywhere. Even Gujarat is known for its art, not Modi," he said adding that that phenomenon in 2009 would be repeated. He said that his focus would remain on women empowerment and farmers' all round development.