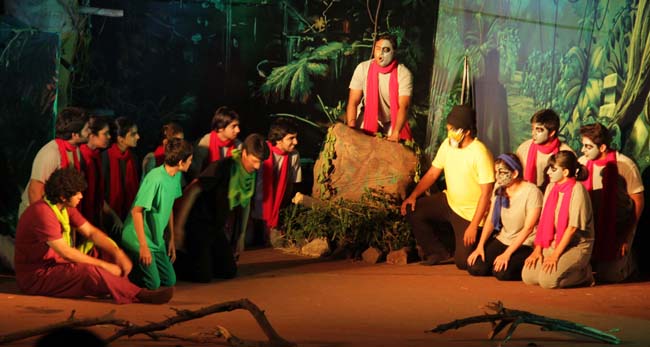 Nagpur News: Showcasing the fascinating adventures of Mowgli, a fictional character and the protagonist of Rudyard Kipling's 'The Jungle Book' stories, noted playwright Vikash Khurana's Mowgli had city children and their parents enthralled and fascinated from start to finish. Held at IMA hall, the play was a delight for children. With each scene flared up with vibrant colours and dynamic imagery, the ensemble cast of 34 young artists showcased their acting prowess before the jam-packed auditorium. A blend of drama, action and comedy, the play incorporated many fun elements to give it a desi tadka.
An emotional start of the act grabbed the attention of viewers and the story of Mowgli unfolded with much finesse. The boy is raised by wolves, captured by monkeys, harassed by a man-eating tiger, adopted by a loving bear 'Baloo' and caring panther "Bagheera", and has elephants and vultures as his friends. While Bagheera's acting was brilliant and consistent and his voice was pleasing to ear, Baloo's expressions and innocence too was adored and loved by everyone. The multi-lingual act was high on the entertainment quotient. Entry to Bollywood songs of every animal, was both funny and entertaining.
The most hilarious and entertaining point was the entry of elephants who were performing Garba steps. Characters named Mottabhai, Hansaben, Jignesh, Kejalben, Sejalben and Jalsaben brought back images of the hilarious comedy serial Khichadi. The sultry snake evoked a lot of gasps from the audience. A special 'Lavani' performance by the monkeys was another fun element of the play.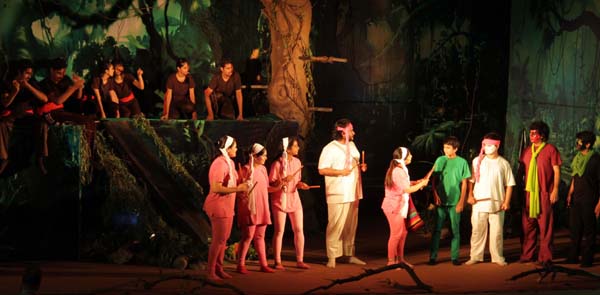 Another rib-tickling comedy was the gossip scene of a she group of vultures. Their Bhangra performance was also applauded. Presented by Stagecraft, the cast included, Amol Wakhare, Raveesh Jaiswal, Nandan Majumdar, Pramod Naidu, Gurnoor Bedi, Sabrina Khan, Anviti Suri, Ketaki Kane, Anamika Sawarkar, Pranjala Chauhan, Ritika Murthy, RJ Rocky, Sonal Trivedi, Arkdev Bhattacharya, Asmita Naidu, Gayatri Chanchani, Tanaya Chakraborty, Anand Jamekar, Vinay Pande, Mohana Mohture, Akshay Dewani, Mukul Vaswani, Shruti Bhojwani, Arushi Thapar, Nandita Jain, Onkar Ghare, Shantanu Thengdi, Chirag Chugani. Rahuldev Mukherjee, Devika Girish, Priyanka Nalwale and Neha Bopche. A still from Stagecraft's play Mowgli presented at IMA Hall in the city on Saturday