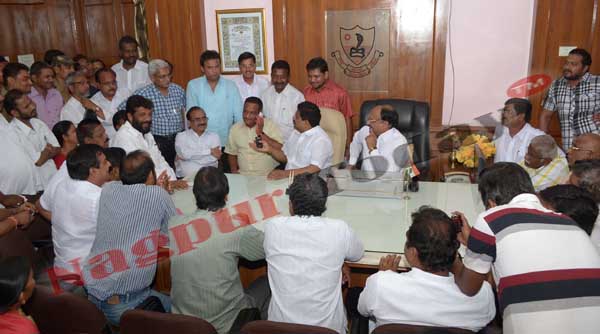 Nagpur News : Even as the scorch of summer is yet to set in its full form, the city of Nagpur has started reeling under acute water shortage. Most of the areas in the city are affected with irregular water supply whereas supply in most other areas is completely stopped in the name of repair and maintenance works. Irked over the current situation, the leader of opposition in NMC Vikas Thakre has taken OCW's Head, Operations and Maintenance, Rahul Kulkarni to task. Thakre has warned Kulkarni of facing angst of people if the water supply is not resurrected soon.
Even those in ruling party appears consented to Thakre's anger and some of them are extending silent support to him.
Both ruling and opposition party have upped their ante against the ill functioning of OCW, which is said to be having strong political connection. But now the leaders have decided to block OCW in its free will operations.
An insider in OCW challenged that neither the NMC administration nor ruling partydare to interfere in their matter, leave aside the opposition party. Pointing to the recent ransacking of OCW's office following people's outrage over dirty and irregular water supply, he said we had kept our doors open to everyone earlier but now not any more.
"Now anyone having any issue should vent their ire on NMC administration which makes huge profit from us every month", he quipped in the devil may care attitude.