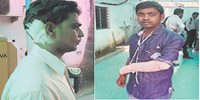 Nagpur News: Irked at the steep hike in electricity tariff and irregular supply of electricity, residents of the Kamgar Nagar, Nara area attacked the vigilance squad of power distribution franchise Spanco, injuring 11 employees. The jaripatka police has registered a case against 18 persons.
According to information, the vigilance squad of Spanco had launched a campaign against electricity pilferage and was on inspection in the Kamgar Nagar area. The operation was led by head of vigilance department Y S Rao. Five teams of 23 employees including a woman, were carrying out the operation. As many as 6 police personnel and 30 Spanco employees were also present to assist in the drive.
The vigilance squad first raided the residence of Riyasat Ali and Barkat Ali at about 10 am. The team found that the meters had been tampered. Similarly, electricity theft was detected in 12 other houses. Residents started to oppose the action saying that the vigilance team was unnecessarily accusing them of electricity theft. Anger in people began to gradually grow, however, the vigilance team was adamant in carrying out the operation. Angered over it the residents began to attack the squad with stones and iron rods. About 11 Spanco employees were injured in the attack. Two of the employees have sustained serious head and limb injuries. Spanco's vehicles that had come to the area were also damaged by the angry mob.
The injured have been admitted to a private hospital. The Jaripatka police has registered a complaint against Riyasat Ali, Barkat Ali and 16 other residents.
On the other hand, residents of the area have claimed that Spanco employees barged in with a 100 strong team and threatened people. Videos of even toilets were shot by the employees. A congress leader Milind Sontake claimed that the people who have been arrested did not oppose the action.