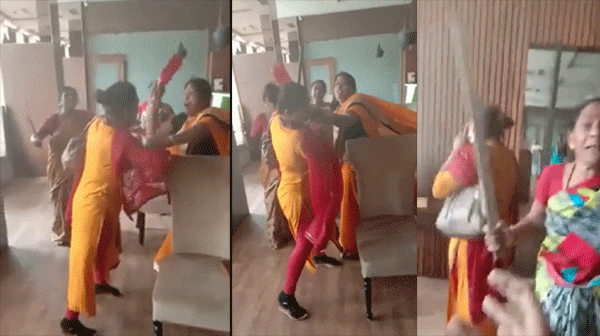 Nagpur: A restaurant owner was allegedly beaten and shooed away from the property by her partner who, she alleges, has illegally grabbed the place located inside Jaswant Tuli Mall on Kamptee Road. With no option left, she has filed complaint with the police. With the repeated persuasion and rigorous follow up by the complainant, the cops on May 9 registered an FIR against Vinay and three others named as Chandu Kathane, Vijay Gaur and Meera Tambe under sections 448, 34 of the IPC. Besides, she has also alleged molestation and sexual advances against the owner of multiplex, who lured her with an assurance that he would get her business back to track.
Sources informed that in December 2017, the complainant had entered into an agreement with the said owner of a multiplex, who also owned the place, to start a restaurant in partnership with the accused Vinay Tukaram Deshmukh, a resident of Telipura Itwari as her business partner.
They set up a restaurant name Veggie Green and ran it for sometime. All went well until October 2018, when Vinay lost interest in the business and eventually stopped coming to the restaurant. During the same time, the power and water supply of the restaurant were snapped while the complainant remained aloof of the reasons. The complainant alleged that this was done in connivance with Vinay and the owner of the property.
According to her, when she approached the owner requesting to reconnect power and water supply, the Mall owner allegedly misbehaved with her. The supply has not been resumed till date. She then ran from pillar to post to set the things in order but in vain.
Meanwhile, Vinay and the complainant mutually revoked their partnership contract on April 1, 2019 and the entire ownership was entrusted with the complainant. The lady has claimed that she has paid all bills and taxes till April 1 2019. She also told Nagpur Today that she had entered into fresh rent agreement with the said multiplex owner to start afresh.
On May 4, when the complainant reached the restaurant, she was surprised to see the lock at the restro's main entrance broken and some people were already inside the restaurant with the door locked from inside.
She then entered the restaurant from the rear door where a group of women with batons in their hand beat up her badly, abused her and turned her away from the place. She then went to Panchpaoli police station and narrated her plight but the cops reportedly did not entertain her as some influential businessmen with political connections created obstacle.
Meanwhile, when she approached the said place owner, he allegedly called her at his office and touched her inappropriately. While making sexual advances, he also tried to assure her that he would like to partner her in her restaurant. However, the woman thwarted his attempt and left the place.