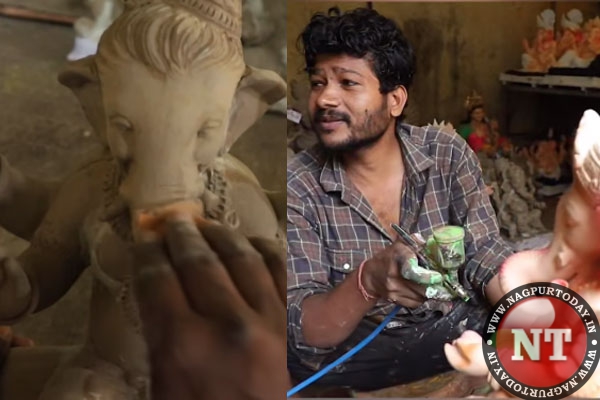 Nagpur: With just 10 days remaining for the much-anticipated Ganeshotsav festival to commence, Kumbharpura in Nagpur's Pachpaoli area has become the go-to destination for devotees in search of exquisite idols of Gods and Goddesses, particularly the beloved Lord Ganesh in his myriad avatars. The vibrant idol hub of Nagpur is bustling with activity as skilled artisans put the finishing touches on Ganesh idols of various sizes and designs.
A visit by the Nagpur Today team to Kumbharpura in Pachpaoli provided insight into the preparations underway. While many artisans in the city adhere to the specific requests of their customers, others seek inspiration from creative designs found on the internet. These artisans, responsible for crafting large idols for various public mandals across the city, meticulously create these structures from scratch. To cater to the diverse preferences of Nagpur's devotees, they often explore online designs to offer something unique.
Creating the larger Ganesh murtis presents a significant challenge, and these artisans commence their work nearly two months before the festival. Currently, their focus is primarily on crafting the idols of Lord Ganesh. Workdays begin at 10 in the morning and wrap up at 8 pm, but as the festival draws nearer, these dedicated craftsmen extend their working hours to over 15 hours a day.
One of the murtikars at Kumbharpura expressed, "We are expecting a plethora of new themes this year, reflecting the many significant issues that have captivated the country's attention." Alongside the numerous shops offering idols of varying sizes, smaller stalls have sprung up along Kumbharpura streets, where artisans from other cities showcase their craftsmanship.
In addition to crafting grand idols for the mandals, these artisans are also hard at work fashioning smaller, more basic idols suitable for home worship. As the city eagerly awaits the arrival of Lord Ganesh, the devotion and dedication of these skilled craftsmen in Kumbharpura play a vital role in adding grandeur and beauty to the forthcoming Ganeshotsav celebrations.