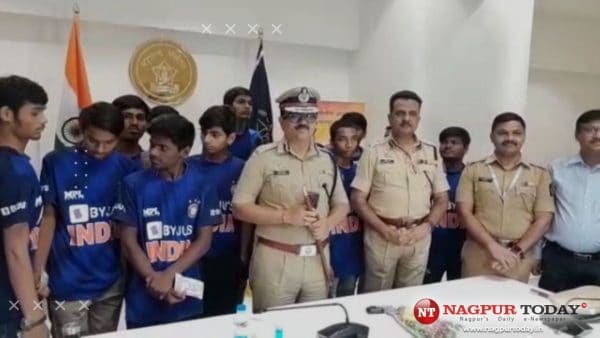 Nagpur: In a grand gesture deserving appreciation, the Nagpur Commissioner of Police Amitesh Kumar donated all his passes for India-Australia T20 match at VCA's Jamtha Stadium to inmates of an orphanage in Nagpur. Moreover, following the Top Cop's appeal, Addl CP Navinchandra Reddy and DCP Gajanan Rajmane too donated their own passes to the orphans. With this magnanimous gesture, the Commissioner of Police and other officers created a benchmark in social thinking.
The T20 match was played on Friday, September 23 and the delighted inmates of the orphanage enjoyed the game by being personally present in the VIP box. In a video clip, the Commissioner of Police said that the VCA authorities had sent VIP passes to him. However, he said he donated the passes to the orphans to enjoy the game. The police chief further said that he himself decided not to watch the match, as the rest of the force would be deployed for bandobast during the game.
Moreover, the Top Cop appealed to his fellow officers too to donate their passes if they wished so. Following the CP's appeal, more officers shared their tickets with him. All these tickets were later distributed to orphans at his office before the start of the match. The orphans were also given new Team India jerseys to make their fun experience a lot more like the others in the stadium.
Apart from Kumar, Additional CP Navinchandra Reddy, DCP Gajanan Rajmane and Lakadganj Senior Inspector Parag Pote too were present when the tickets or passes were handed over to the orphans at the CP office.