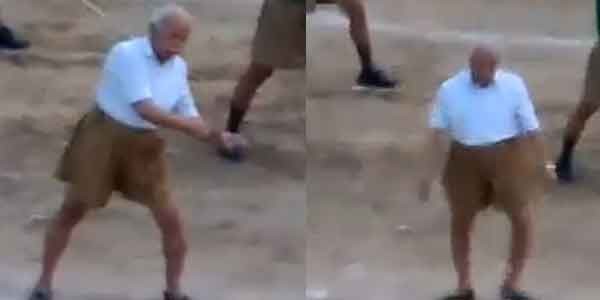 Nagpur: Rashtriya Swayamsevak Sangh (RSS) chief Mohan Bhagwat participated in a training session in Gujarat's Vadodara. A training session was held between May 30 to June 1, where RSS workers from Gujarat, Goa and Maharashtra arrived. On the last day, 67-year-old Mohan Bhagwat took lathi (wooden stick) and performed with it to teach RSS workers.
In the viral video, Bhagwat is seen playing with a lathi and teaching other participants how to use it. Since the video has gone viral on social platforms, many wonder how the RSS chief could use lathi with so much energy and intensity at an old age. Since media is not allowed to cover the training sessions, the visuals seem to be captured by one of the RSS workers present there.
Bhagwat also held interactions with the swayamsevaks and give directions to them. RSS organises self-defence training camp in various parts of the country.