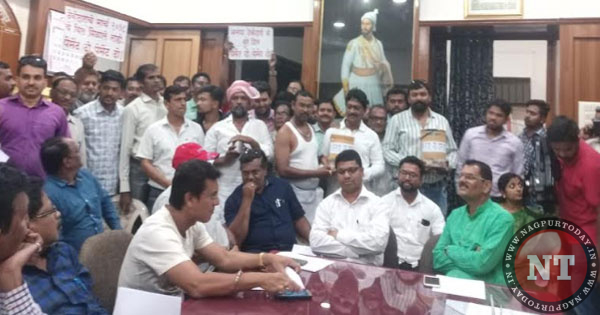 Nagpur: The agitating contractors of Nagpur Municipal Corporation (NMC) on Friday left Mayor Nanda Jichkar, Ruling Party Leader Sandeep Joshi and other office-bearers embarrassed as well as furious. The contractors handed over money collected through "Bhik Mango" agitation staged on Thursday to highlight their various demands main being clearance of their pending bills. After placing the 'Bhik Mango" collection on the table of Mayor, the contractors left the chamber without uttering a word.
The act of the contractors infuriated the Ruling Party Leader Sandeep Joshi and he asked them to behave and keep patience. But one of the contractors got enraged and placed the money on table of Mayor. Joshi told the contractors that the issue will be discussed after the press conference. The NMC administration is discussing and taking steps to meet the demands of contractors, he said.
It may be recalled that the NMC Contractors Welfare Association has been staging agitation since the past three days. On the third day of their agitation, contractors staged 'Bhik Mango' agitation. It was decided to hand over the money collected in the 'Bhik Mango' agitation to the NMC administration. The contractors demonstrated against administration for payment of their pending bills at administrative building. The contractors will continue their agitation till their demands are met by the administration.
Vijay Nayudu, President of NMC Contractors Welfare Association claimed that administration did not release their payments since March. They met office bearers but only received an empty assurance. The Chief Accounts and Finance Officer has piles of files of pending bills. The administration is giving only assurances. The contractors alleged that administration has placed several hurdles in clearing the files paving way for corruption.