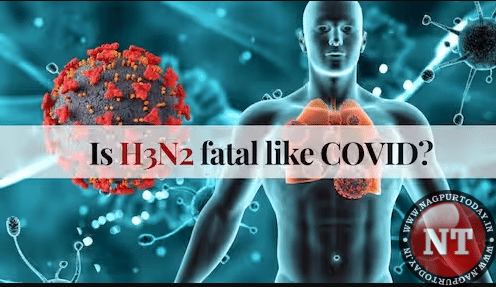 Nagpur: It seems that Nagpur has become a victim of the virus again. The virus has gotten into the system of every other person in the city and a death has also been recorded.
In the last five days, Maharashtra has recorded an 82 per cent rise in the H3N2 cases. As per the data by the state health department, from January 1 to March 15, 119 H3N2 cases were recorded. The numbers then jumped to 217 by March 19.
The health officials claim that there has been a significant rise in the number of cases this week, even though it has been going on for a month. The contributing factor to the increase of the virus is fluctuating temperature.
The symptoms of the virus are more like those of common flu and it is not very necessary for one to always get the test done, as per NMC Addl Commissioner Ram Joshi. He further added that incase of breathlessness and if there is a situation of hospitalisation, one should then get the test done.
"One should make sure to wear the masks again and also wash their hands frequently to avoid transferring of the germs. People especially having problems like diabetes, heart problems, chronic kidney disease should be extra precautious in this weather," he added.
Talking about Nagpur is ready to tackle if a rise in hospitalisations are witnessed, Joshi said the health infrastructure is fully capable to handle the problems and there will be no shortage of oxygen as we witnessed during Covid-19 waves.