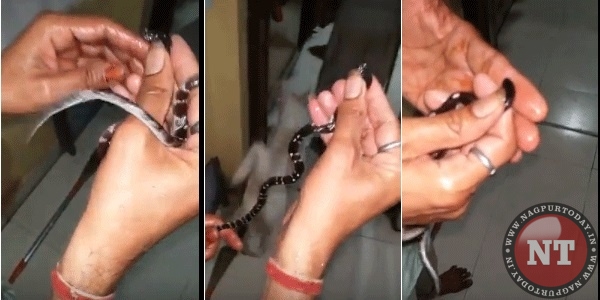 Nagpur: The proverb "Half knowledge is more dangerous than ignorance" has come true in every sense of the word. An enthusiastic but 'illiterate' man learnt a dreadful lesson of a folly he committed by catching an 'innocuous looking' snake. Now, the man is battling for his life in a hospital.
It all began when a snake infiltrated into the house of Devendrasingh Parmar (37) in Khaparkheda town of Nagpur district on Monday night. The 'overenthusiastic' Parmar caught the hissing guest and initially scared his family members by 'proudly' waving the little snake. He told them the snake is not venomous. Later, Devendrasingh, in a show of 'daredevilry' let the snake bite him at his fingers not once but thrice.
And this 'daring act' of Parmar turned out to be a terrible mistake. The 'innocuous looking' snake was the Indian Krait, commonly known as manyar, a highly venomous species. The bites by the manyar soon showed their effects. Devendrasingh started trembling. As his condition deteriorated, he was rushed to Mayo Hospital in Nagpur and admitted to the ICU.
Sources said that Devendrasingh Parmar called himself a 'Sarpa Mitra.' But he has neither expertise in catching the snakes nor knowledge about the snakes. His act of catching the venomous manyar casually may prove costly for him.
… By Narendra Puri