Nagpur: A mayhem of the sort was seen at Ajni railway station on Thursday noon when a bunch of BJP workers were out to clutter the railway station, flouting the norms by crossing railway platform through tracks and also carrying heavy goods through it. Ironically, the senior party leaders as well as RPF staff who were also present at the moment, turned mute spectator to the gross violation of railway rules. While the senior leaders watched the party workers violating the norms and risking their lives, the RPF men did not even bother to initiate any action as per the rules. The RPF employees, who are otherwise quick to impose heavy penalty from citizens caught breaking rules, were seen as the 'mere puppets' in the hands of netas. BJP MLA and senior party leaders were included among those who witnessed the partyworkers go berserk on railway tracks at Ajni railway station.
Incidentally, the BJP workers were caught in the act as some media lensmen were also present at the railway station.
Sources said the BJP leaders and party workers had gathered at Ajni railway station to board a special train to Mumbai. As soon as the arrival of train was announced the BJP workers not only rushed from platform no 1 to 3 through the tracks but transported huge luggage and other goods as well.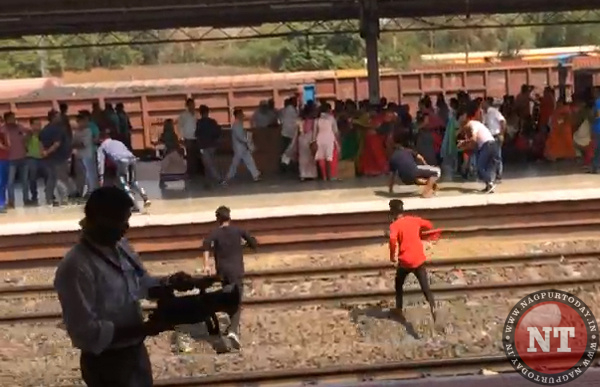 Since the tracks at Ajni railway station serve as the route to Hyderbad and Mumbai, the lines often remain busy with frequenting trains on this route. Despite the alarm on railway announcement system alerting passengers not to cross the tracks, the party workers chose to ignore safety announcement and went on to flout the norms.
Whims of Power
The onlookers at Ajni railway station who witnessed the whimsical act of BJP workers were of the view that the power has gone into their heads. The citizens have also criticized the RPF staff for not initiating any action against the violators.