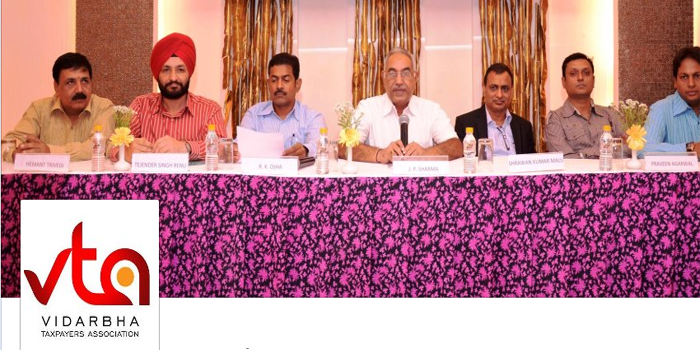 Nagpur News : Nagpur Municipal Corporation (NMC) had invited suggestions and objections on proposed "Property Taxes By-Laws, 2012" published vide Gazette Notification dated November 6, 2012, wherein NMC has proposed of imposition of property tax on the basis of Capital Value of Property in place of present rent chart basis by preparing the Draft Rules and By-laws are published for public information as per the mandate of Section 417 (i) of City of Nagpur Corporation Act, 1948.
Accordingly Vidarbha Taxpayers Association (VTA) through its secretary Tejinder Singh Renu filed its suggestions and objections on various issues before the Office of the Assessor, Assessment and Tax Department, NMC, Nagpur.
VTA claimed said Gazette Notification of being absolutely misleading as date of commencement of By-Laws coming into force published in English is mentioned as 1-4-2012 by calling them "Property Taxes By-laws, 2012", however Marathi publication mentioned them as "Malmatta Kar Upvidhi, 2011", whereby the very basic term of commencement misleads the common man and this terms to Gazette Notification turning bad in law.
VTA also disputed that the Draft Rules and By-laws are published as per the mandate of Section 417 (i) of City of Nagpur Corporation (CNC) Act, 1948; however as per recently published news in local dailies revealed that CNC Act, 1948 has been replaced by Maharashtra Municipal Corporation (MMC) Act or similar, thereby making these By-laws infelicitous.
VTA also claimed the published draft to be too complicated for a common man to understand, moreover below Rule 16 (1) and 16 (2) of Gazette Notification had specifically mentioned that some examples based and worked out on the formulae as aforesaid are shown in the Appendix, however no such Appendix is available in Gazette Notification, neither on website of the NMC, which resulted in extremely weak number of public participation in present case.
VTA also asserted that ready reckoner is utilized in case of sale purchase by tax departments as it involves transfer of property and since its inception people had always criticized them to be unrealistic and too high, therefore considering them for house tax would drastically harm common man.
VTA demanded some easy procedure to derive house tax so that common man can also calculate his tax. As this proposed method being too complex the tax assessor may assess a huge tax figure and after some settlement of personal interest the figure shall be lowered to actual figure. Such malpractices can only be controlled when system adopted is easy, whereby taxpayer can also calculate & be satisfied of the tax liability.
VTA also objected to this Gazette Publication as it failed to mention the rate of tax to be levied on derived capital value of lands and building.
VTA suggested that to attract early payment attractive scheme of handsome rebate should be offered. Current rebate offered is very low and does not attract taxpayers for the same, moreover when NMC is charging 2% interest on delayed payment what restricts them to give similar rebate on receipt of tax paid earlier by taxpayers; this would encourage taxpayers to pay tax well in advance.
VTA emphasized that NMC is an Authority formed to give services to its citizens and is not at all a revenue generating authority. Interest charged by NMC for delayed payment is justified, however rate is highly objectionable and too high which is like Pathani Byaj, majority of assesses belongs to middle and lower middle class and taking this into consideration, interest rate should be gracefully reduced to 1% from existing 2% per month.
Apart from suggestions and objections VTA also highlighted issues in various rules & sub clause of the By-laws published and appealed to the NMC that taking into consideration the suggestions and objections present notification should be withdrawn immediately and republish fresh notification with appropriate corrections and amendments which shall give fresh opportunity to the citizens again to file their suggestions and objections