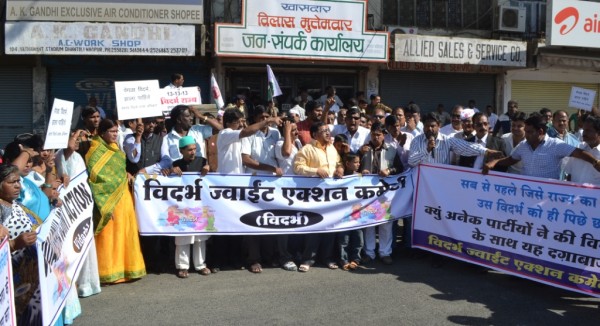 Nagpur News: About 200 members of newly formed Vidarbha Joint Action Committee – a cluster of various social and political organizations has moved forward to press for statehood to Vidarbha. Kicking off their campaign for the cause, the members on Sunday cordoned the office of Nagpur MP Vilas Muttemwar and submitted him a memorandum in this regard.
The committee demanded in the memorandum that being an MP from Vidarbha and supporter of giving statehood to the region, Muttemwar should bring a proposal to this regard in Lok Sabha.
Ahmad Kadar, Central General Secretary, Nag Vidarbha Andolan Samiti – one of the constituent organization in Vidarbha Joint Action Committee – said that most of the regional parties having their MPs in the cabinet are supportive of formation of smaller states. He exuded confidence that Muttemwar should exercise his position to get these MPs on board to support the formation of Vidarbha. He could easily get the required amount of MPs to put the proposal forward, Ahmad said adding barring a few like Congress and Mamata Bannerjee's Trinamool Congress, all the other parties including SP, BSP, JD(U), LJP and even BJP would support the proposal. He said that this would be the most effective way to seek statehood for the region.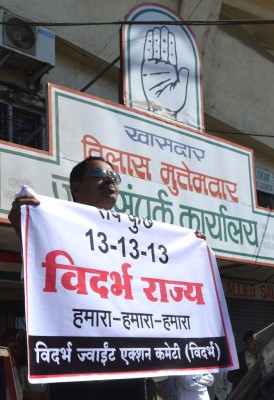 Muttemwar assured the members for every possible effort he could make to support the cause. He said that he has been strong supporter of Vidarbha since his childhood defending that the Congress party alone could not be held responsible for missing out Vidarbha during the formation of smaller states. He said the BJP would have initiated efforts when it announced the formation of three smaller states Chattisgarh, Uttarakhand and Jharkhand out of MP, Uttar Pradesh and Bihar respectively.
Besides Nag Vidarbha Andolan Samiti, other organizations that are clubbed into Vidarbha Joint Action Committee are Shetkari Sanghatna, Navrajya Mahasangh, Republic Party of India, CPI, Forward Block and many big and small organizations. Rajkumar Tirpude, Vidarbha supporter also joined the Sunday revolution.
Interestingly, grass root level workers from NCP, Congress, Shiv Sena and Maharashtra Navnirman Sena (MNS) also came forward in support.
Ahmad informed that every Sunday, the Samiti would reach out to one MP in the region and seek their intervention in the formation of Vidarbha.
He said they would be meeting Shiv Sena MP from Yawatmal-Washim Lok Sabha constituency Bhavna Gawali on 20th January and press for similar demand. Members from other districts from Vidarbha would also join their pro-Vidarbha drive.
He warned that if no positive response comes out with their current set of action, the agitation and massive protests would be launched in the second phase.