Nagpur: The premier organization for the promotion and development of Industry in the region, Vidarbha Industries Association which has been working for more than five decades celebrated its 55th Foundation Day on Saturday, Sep 15 at Hotel Centre Point, Ramdaspeth, Nagpur.
As per the tradition, VIA gave 'The VIA-Solar Vidarbha Udyog Gaurav Awards 2018' on this occasion by recognizing eight industrialists,the torchbearers of industrial development in the region. It is conceived as an annual initiative for recognizing individuals and organisations that have made outstanding contribution to the industrial development of Vidarbha region.
Maharashtra Chief Minister Devendra Fadnavis was the chief guest of the Foundation Day ceremony function of the Vidarbha Industries Association.
Prominent recipient of the the awards are as follows:
·Large Scale Industry- Raymond UCO Denim Pvt. Ltd, Nitin Shrivastava, Director, Yavatmal
·Medium Scale Industry – Spacewood , Kirit Joshi, Founder Director and his partner Vivek Deshpande
·Small Scale Industry- Miegale Numatics Pvt. Ltd, Ratul Chakrobory, CEO
·Woman Entrepreneur of the year – Global scientific INC, Dr Smita Bhavra.

·Best Startup of the Region – Fandhal technology, Vinaya Saraf, Director
· Most Promising Unit in Developing District- Subhlaxmi food products, Gondia, Madhur Agarwal, Director
·Best Exporter of the region – ZIM laboratories Pvt. Ltd, Niraj Dhadiwal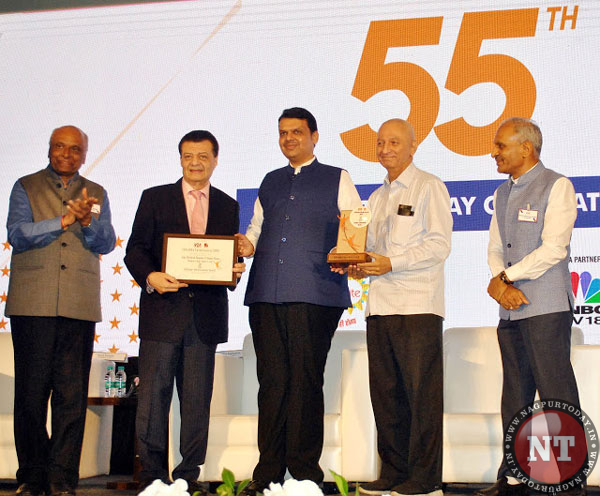 · Best Service Provider – R and Y logistics, Abhishek Rao
·Lifetime achievement award- Dinshaw's, Jimmy Rana and Aspee Bapuna
While delivering introductory remarks Atul Pande, president, Vidarbha Industris Association (VIA) discussed the need of industrialization also advice CM Devendra Fadnavis to recognize Wasim, Gadchiroli districts in the interest of growing industries, as they are full filled with enrich resources.


While addressing the gathering CM Devendra Fadnavis said that "This award ceremony is really special for me, as I'm feeling that I'm giving awards to my people. I think rather that recognizing the talent among us, such award inspires people to work with full potential. Maharashtra contributes 47% of the county's FDI which is the proof that compare to our neighboring states even standing together, we are far ahead in terms of industrialization.
While discussing roles of infrastructure and policies when it comes to setting up an industry he mentioned, "Being a magnet, infrastructure plays key role in attracting investors and ultimately developing any industry. As a component Maharashtra seems to achieve all the milestones however if tally it with its constituents one can easily find out that the growth and development has been limited to western part of the state. However the updated industrial polices will primarily focused of Vidarbha," CM assured.
"For uniform development of the state we need better policies which seek to speared growth across the state, creating completely balanced growth" He added.
While pulling off a quip he also assured the gathering that, he is not in the mood of leaving CM chair.
Shweta Shelgaokar compared the programme and Suhas Budhe, secretary, VIA paid the vote of thanks.
.. By Shubham Nagdeve
.. Pics By Rajesh Bansod
– Shubham Nagdeve
– Srishti Talwar