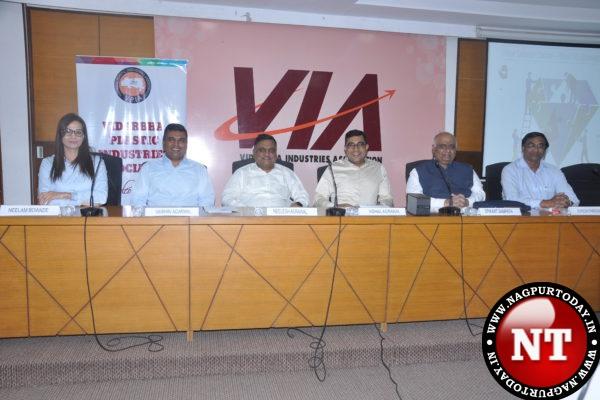 Vidarbha Industries Association (VIA) HRD Forum, Vidarbha Plastic Industries Association (VPIA) & NIPM Nagpur Chapter jointly organized a session on "Labour Laws" today, 7th June, 2023 at VIA Auditorium, Nagpur
Expert Speaker, Srikant Sampath, Co-founder of iTalent India Management Consultants Pvt Ltd, specializes in turning around companies and enabling companies to achieve their business key performance indicators through various HR Interventions. He provides strategic HR solutions and gives advisory solutions on all the facets of HR.
The much-awaited Labour reforms have been passed by the Parliament. They give priority to occupational safety of the workers. These reforms will contribute to a better working environment, which will accelerate the pace of economic growth. These reforms also seek to harness the power of technology for the betterment of the workers and industry both."
More emphasised is given from "Satyamev Jayate to Shramev Jayate" which denotes the significance of workers in the process of nation building. For improving the working conditions of workers, the government has enacted several health and welfare schemes as well as recently launched four new labour codes.
Srikant Sampath highlighted the major points, new Labour Code makes mandatory provisions for the employers to provide a safe working environment and try to cover the risk of unfortunate incidents, the workplace should be kept free from hazards. He further said employers are required to conduct free annual health check-ups and ensure the disposal of hazardous and toxic waste. Workers / Employees are entitled to receive overtime amount, Employers are required to provide basic amenities such as potable drinking water, adequate lighting, creche, washing facilities, locker rooms, etc. He said the Code Bars Civil Courts from hearing matters under the Code. The only judicial recourse for a person aggrieved is to file a writ petition before the relevant High Court. Worker Quarters to be as per norms.
He also emphasised the Minimum Wage, Safety of employees, Social Security to all employees, Focussed on Productivity and not on Time, Simpler IR Laws and focussed on resolution not stoppage. He said it is mandatory for employers to do manpower audit, remove Excess Manpower as per Lean Approach, you can reduce by 10% – 20%, Pay for work done and not Time Logged, ensure 100% compliance and proper documentation.
He explained about Migrant Workers, employer should also provide all safety, Security, yearly travel allowance, medical facility. The contractor shall apply for amendment of licence along with security deposit in case there is an increase in the number of contract labour.
Earlier Vishal Agrawal, President – VIA welcomed the guest speaker with floral bouquet and also gave memento. Dr. Suresh Pandilwar, Co-Chairman of VIA HRD Forum while summing up the session said that HR needs to play very important and meaningful role in implementing these 4 codes and proposed vote of thanks. Neelesh Agrawal, President – VPIA also present on the dias. Vaibhav Agrawal, Event Coordinator introduced the speaker. Neelam Bowade, Convener of HRD Forum coordinated the session.
Prominently present were Jt Secretaries of VIA, Rakesh Surana, Dr Anita Rao, Manish Wankar , Suhas Birewar Ajay Agrawal, Secretary – VPIA, Harish Mantri, industries representative Ankur Seeds, Kapilansh Dhatu, Simplex Chemopack, Manas Agro, Orange City Allows, Eros Group, CIIMS Hospital, Kailash Polyfilm, entrepreneurs, HR Professional and Managers, Management Students attended the session.