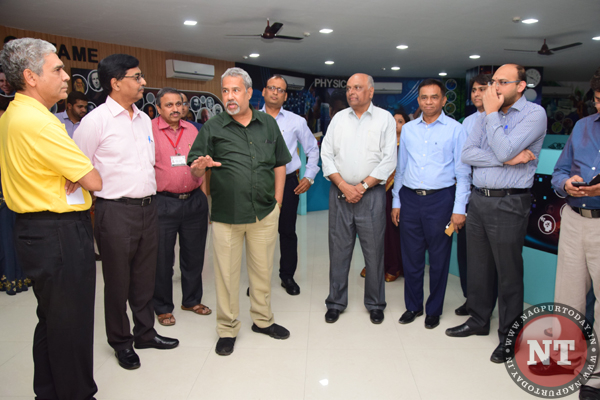 Nagpur: At a one-of-its-kind meeting organised by Vidarbha Industries Association (VIA), some of the top academicians and industry captains from Vidarbha met at the RSC to deliberate over the opportunities of building an eco-system conducive for the incubation of ideas and innovations from the region.
At the onset, Ramdas Iyer, Director of Raman Science Center, gave the delegation a tour of the center's Innovation Hub; an open lab facility that provides free of cost infrastructure for inter-disciplinary research. "At our center, we help students with validating, experimenting, prototyping and patenting their ideas. Despite being one of the biggest such infrastructure in the country, only 10% of our capacity is currently utilised", he lamented.
Atul Pande – President of VIA, urged the industrialist and academicians present to synergise their strengths and ensure that all resources are pooled together and made available to push forward innovative ideas in a systematic process. "No region can prosper if it doesn't have local entrepreneurship. Since RSC a capacity to nurture 300 students at this facility at RSC, VIA has decided to sponsor registration and one year membership fees for availing facilities at "Innovation Hub"at RSC, 10 students from each college, he announced.
Sharing his insights into the situation, Suresh Rathi, Vice President, VIA, said, "VIA's vision is to create entrepreneurs and assist enterprise. Through this forum, we are not looking to rope in geniuses – we are opening these facilities for every individual, young or old, who simply has an interesting idea".
Dr Subil Bhat from IIIEFA (Vgyan Bharti) volunteered to steer the activity. CA Poonam Khadelwal, Managing Partner, Ventrue Catalysts also spokeon funding of the prospecting enterprises.
Building up Eco-system for incubation of ideas/innovation upto enterprise level is the prime objective of this group under stewardship of VIA & (Vigyan Bharti) IIIFA. Who have been collectively working in this direction steadily for past 3 years. another collaborative effort of VIA with Lemon School of Entrepreneurship called "Gurukul" would be scanning there ideas for incubation and hand-holding for conversion into enterprises.
During the discussion, it was also agreed upon that the academicians would create a think-tank and meet at regular intervals to share insights, track progress and explore collaborative opportunities. Some of the notable dignitaries present at the meet included – Nitin Gujatathi, Lemon School of Entrepreneurship, Dr. Chandrahas Handa , HoD, Mechanical Dept. KDK College of Engineering, & Dr. Yogita Kasture, CIVN, VNIT Nagpur.
Dr. Prashant Agrawal from III Forum conducted the meet and proposed vote of thanks.