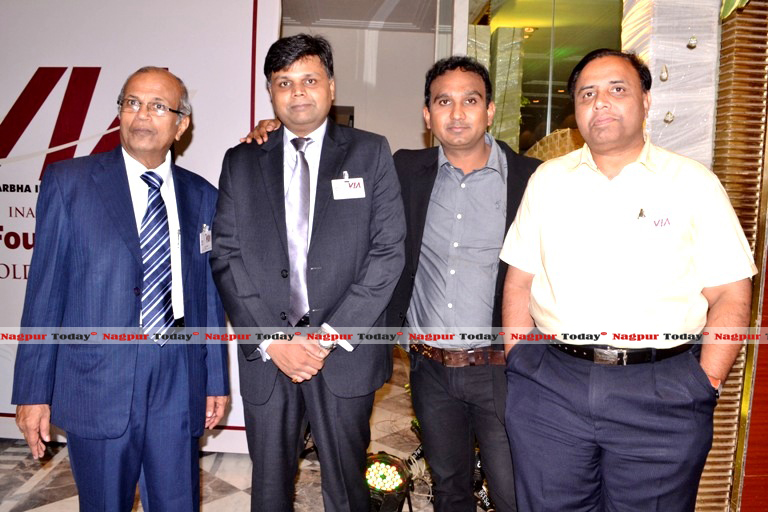 It was a perfect Saturday symphony where the who's and who of orange city shared the gathering which was not as simple as it appeared .The Big wigs bonded big time over the yesteryears' nostalgia in which all of them lost like the rarely before. The cloudy night was peaceful and perfect for the Golden Jubilee foundation day celebration of VIA for all the members. The VIA celebrated its 50 years of inception that was witnessed by not just the business community of the city, but the politicians, doctors, media, lawyers of the city had gathered to grace the celebration.
While reliving the moments…
Numerous lighter moments were shared not just between the people of same sector, but different ones as well. The celebration was evident as the guest socialites and known faces from media fraternity cheered into mesmerizing atmosphere that charmed the moments at the plush banquet hall of Centre point Hotel, Ramdaspeth.
The golden Jubilee…
The golden Jubilee celebration marked the magnificence at the aura that spelled joy for every individual dropping in. the light aroma of food waved the whiff of smiling taste enjoyed by the cheering and fun loving people that was the hidden side of VIA that one rarely spots.
The blend of well-groomed and elegant attires..
Most attendees made the hall appear lavishing with their neat and stylish outfits. Where on one hand ladies were seen draped in beautiful sarees, gentlemen made sure that the class is matched equally. Likewise, the young and new faces were seen catching eyeballs.
The generation next…
The next generation entrepreneurs were also there to witness this celebration, which left the air refreshing. These aspiring achievers were seen laying an important foundation for themselves on this foundation day by interacting with the seniors aptly and humbly.
About the organization….
The Premier organization for the promotion and development of the industry in Vidarbha region, Vidarbha Industries Association is 5 decades old now. Formed in the year 1964, with sole objective of achieving rapid industrialization, the VIA, as popularly known, is recognized by the Government as a pioneer regional industries association.
Its office bearers enjoy representation on several Central and State Government Committees for Industry, VIA is affiliated to FICCI, AIMO, MEDC, CII, etc. The association has member industries from all over the vidarbha. VIA has also started various forums and wings with the objective of widening the scope of activities and to involve more and more members into the program of VIA.