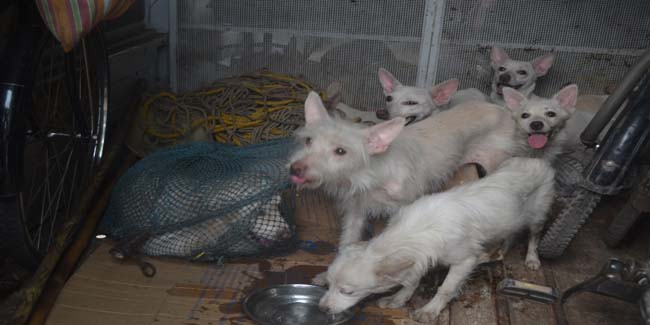 Nagpur News: Veterinarian of the Nagpur Municipal Corporation Dr Gajendra Mahalle, raided a flat in Swati Apartments in Hanuman Nagar and rescued as many as 11 dogs, who had been locked up inside from the past 15 days. One of the dogs was found dead and the body had decayed. The flat reportedly belongs to one Mina Ingole. Residents of the building had been feeding the dogs biscuits from past few days which had kept them alive.People from the area brought the matter to the NMC's notice.
Sources informed that the foul smell was coming from the flat.This had made the atmosphere intolerable for residents. Dr Mahalle who reached the flat with the rescue squad first tried to contact the owner of the flat but the efforts went in vain. Later in presence of personnel from Ajni police station the front door of the house was broken down. After this, the NMC dog squad started to rescue the dogs one after the other. One of the dogs was found dead while rest of the dogs were hardly conscious. The dogs were taken to veterinary hospital near at Alankar Talkies.
Residents of the building said that several complaints have been made against the owner of this flat in the past but no action has been taken by the administration.
While speaking about the rescue operation Dr Mahalle said that it is illegal to keep dogs in a residential flat. An FIR was registered against the owner of this flat and the lock was broken. The body of the dead dog had started to decay. The flat was thoroughly searched a number of times to ascertain that there were no more animals in the flat. According to Dr Mahalle, the insanitary conditions in the flat were even posing a serious threat to the health of building residents.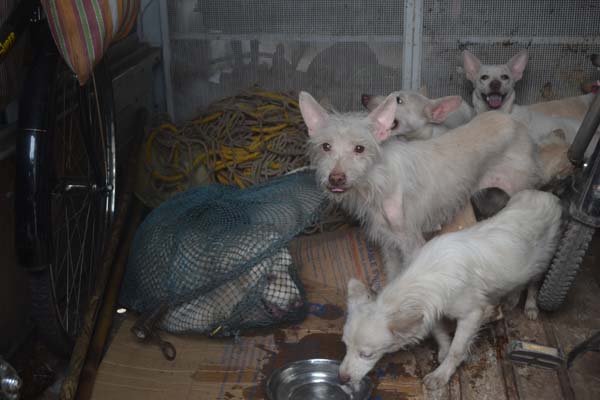 The dogs found in the closed flat all of a sudden turned violent on seeing NMC workers. One of the dogs bit an NMC worker severely. The injured worker was taken to the Mayo Hospital.
Officials of the Hanuman Nagar zone had taken action against the flat owner about 13 months back. As many as 17 dogs were rescued from the flat in the action. After this the woman once again started to breed dogs for commercial purpose.