Nagpur News: Kamptee Military Station organized a 'Veer Nari Mela' on 15 Jan 2014 on the day of Army Day. The function was aimed to reach out to 'Veer Naris' to recognize their sacrifices and renew their bond with the Army. The function was organized at Guards Regimental Centre. It was attended by 46 Veer Naris along with 92 dependents from ten districts of Vidharbha Region.
The function was also aimed at addressing grievances of the Veer Naris and acquaint them with their rights/entitlements which are due to them from various State/Central Government agencies and welfare schemes/educational facility launched by the Army for them and for their wards.Brigadier SN Wasade, Station Commander Kamptee Military Station, in his address to the 'Veer Naris' assured them of all possible assistance in resolving their grievances and exhorted them to come forward and be part of the extended family of the Army.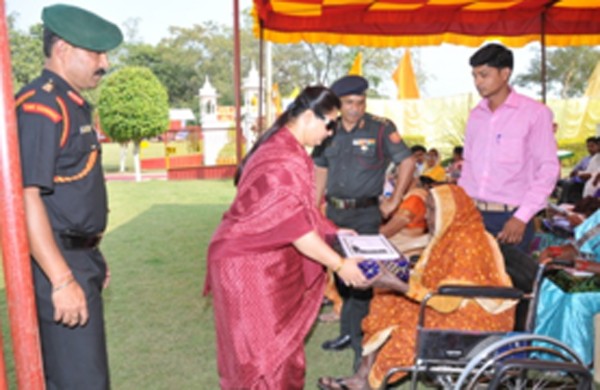 Each Veer Nari/Mata was honoured by Mrs Anjali Wasade by presenting a gift and financial assistance of Rs 5000. In addition, a bilingual booklet consisting summary of various welfare schemes/ entitlements was also presented to each one of them. A medical camp, canteen facility and grievance cell to note and follow up their complaints were established by The Records Guards and Records APS Kamptee.
Smt Anuradha Dev also addressed the gathering and on behalf of all the 'Veer Naris' expressed her deep gratitude to the Station Commander for having organised the Mela, which was well received and appreciated by one and all.