VED's Nagpur Vision 2020 : Nitin Gadkari for creating 50,000 jobs for Nagpur youth in 5 years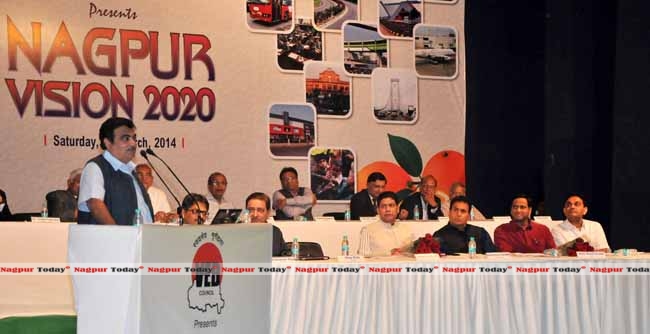 Nagpur News.
Nagpur Vision 2020 – an ambitious initiative conceived by Vidarbha Economic Development (VED) to fetch all round economic development in the region conducted its seminar at Deshpande hall here on Saturday. Prominent political leaders and heads of all major trade and commerce organizations shared their views over a brainstorming session at the event. The occasion witnessed some bright visionary views aired out for putting Nagpur on fast track growth. As former BJP President Nitin Gadkari sets his tone for economical housing to all, he also projected the target of generating 50,000 jobs in the next five years to usher full fledge development.
Former president of VED Council Vikas Kale exhibited the development framework of Nagpur through a Power Point Presentation which focused on the key areas to be looked into while sorting out drawbacks.
Also present on the occasion were State Food and Civil Supplies Minister Anil Deshmukh, VED's President Devendra Parekh, Secretary General Rahul Upganlawar, Vice-President Vinita Mathur, Vice-President Shiv Kumar Rao,Vice-President Rina Sinha, Narayan Gupta, Treasurer Atul Tajpuriya, Joint Secretary Anil Nair, Joint Secretary Nitin Ronghe, MP Ajay Sancheti, Mayor Anil Sole, Ashish Deshmukh, BJP MLA Krishna Khopde, NIT Chairman Praveen Darade and other prominent dignitaries. Many prominent citizens, businessmen, citizens, think-tanks and others constituted the audience. Social Justice Minister and Nagpur District Guardian Minister Shivajirao Moghe was also invited to speak on the occasion but he could not make it to the venue due to some prior engagement.
Addressing the guests, former BJP Chief Nitin Gadkari expressed his vision to ensure at least 50,000 jobs for the city youth in the next 5 years. While agreeing to various proposals put forth by VED Power Point Presentation, he said many projects are pending only because of lack of approvals in the right time. Gadkari also stressed on constructing affordable housing to cater to the low income groups. He said, "New townships have been cropping up on city outskirts but the cost of single unit in these residential ventures goes for more than Rs 10 lakhs that makes these schemes beyond poor man's reach. He stressed upon building 500 sq ft apartments to make it reasonable for the common home seekers. He also advocated for making interest free loans to those buying these small area units. Gadkari said that if his government comes to power then they would initiate step towards making budget housing a reality and also allow waiving of interest on loan for buying 500 sq ft apartment."
In his address, Gadkari also spoke on stretch on various issues including MIHAN, shifting of Oil & Gas filling units, Container Corporation etc beyond Borkhedi, increasing number of Sickle Cell patients among SC/ST community, lack of proper and sufficient hospitals, need for a generic pharmaceutical production unit in the city, housing problems, road, transport facilities, project approval and clearances pending because of Forest department and stringent acts, Tiger Capital, extension of Ambazari Lake, need for a proper Vegetable, Fruit, Fish and Mutton Markets at all the four corners of the city, proper parking facility etc. He had in his own inimitable style and humour had captivated the attention of the audience.
Minister for Food and Civil Supplies Anil Deshmukh while addressing the audience at VED's Nagpur Vision 2020 said that among many salient features of the city, some of the projects worth mentioning is the MIHAN Project. He said though it did not start off as expected but has certainly picked up speed and come into a fast paced one. With top IT companies like Infosys, TCS, Wipro, Tech-Mahindra having procured land and having started establishment of infrastructural facilities, will certainly ensure more than 1,50,000 jobs for the youth in Vidarbha and Nagpur.
Many companies including Boeing MRO will be operational in MIHAN from August 2014, he added. Deshmukh said that the Government is also boosting MIHAN, since the Chief Minister is the chairman of MIHAN. Deshmukh also delivered a Power Point Presentation on Metro Rail which has been approved. He said that how with the onset of Metro Rail, 4 lakh people can travel everyday to and fro their jobs fast and comfortably. He said that how the city will soon to host major National-level educational institutions are slated to come up in the city, like the National Law School, Indian Institute of Technology.