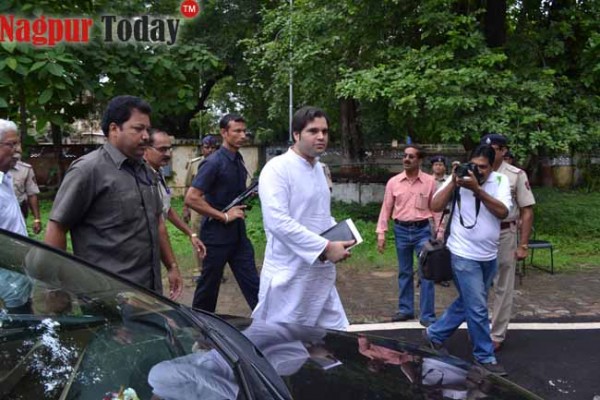 Nagpur News: The firebrand General Secretary of Bharatiya Janata Party (BJP) Varun Gandhi termed the Congress leader Digvijay Singh remarks "RSS gives training in the making of bombs" as potentially dangerous and a bad omen for the nation. "Digvijay Singh is not serving the nation", Varun Gandhi asserted. He was speaking to media at Ravi Bhavan in Nagpur.
Recently, known for his RSS bashing, Digvijay Singh had alleged that the organisation gives training in the making of bombs.
The BJP leader is in Nagpur to meet RSS Chief Mohan Bhagwat. Varun Gandhi's meeting with Bhagwat could be called a Phase-II after the recent meetings of topmost party leaders Murli Manohar Joshi, Lal Krishna Advani, Rajnath Singh, the gigantic party leader and Gujarat Chief Minister Narendra Modi and former BJP President Nitin Gadkari with the RSS Chief. Even Yoga Guru Ramdeo Baba had also met Bhagwat.
It may be recalled, Varun Gandhi has been entrusted a responsibility in the new Committee as In charge of BJP's Campaign.
Varun Gandhi is also known for his fiery speeches. He was facing the court trial for one of his speeches, albeit, he was acquitted by the court. The main agenda of Varun Gandhi-Mohan Bhagwat, it appears, RSS directing him to rein in himself and desist from givin sensational speeches that could hurt some people.