Vajpayee's mortal remains arrives in Nagpur, to be taken across Vidarbha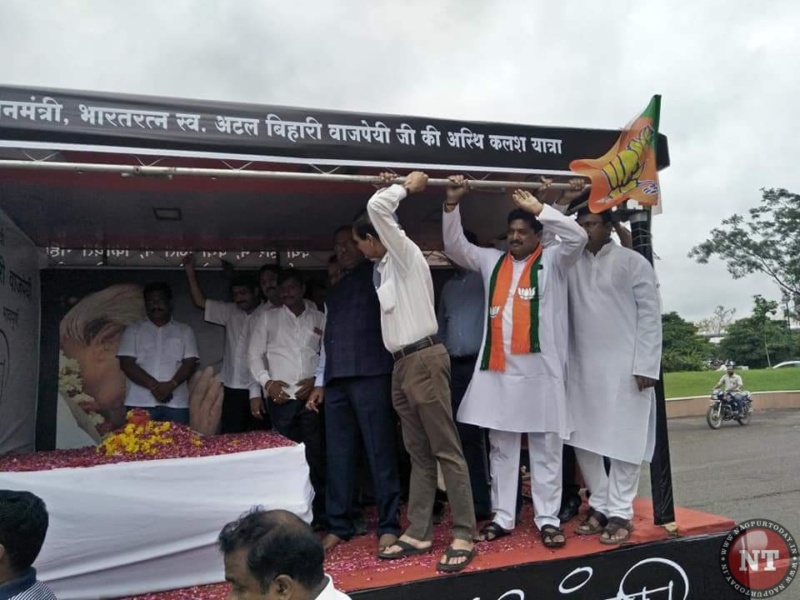 NAGPUR: The mortal remains of former Prime Minister Bharat Ratna Atal Behari Vajpayee arrived in Nagpur via a flight from Mumbai on Thursday morning. Guardian Minister Chandrashekhar Bawankule, BJP district chief Dr Rajiv Potdar, BJP city chief Sudhakar Kohle, Mayor Nanda Jichkar and Zilla Parishad president Nisha Sawarkar recived the mortal remain at Dr Babasaheb Ambedkar International Airport.
The BJP has planned a three-day Asthi-Kalash Yatra that will start from Nagpur and travel across Vidarbha. The Yatra was scheduled to start from the airport and move to Nagpur rural. It was scheduled to reach Butibori at 10 am, Hingna at 12 pm, Wadi at 1 pm, Kondhali at 2.30 pm, Narkhed at 4 pm, Katol at 5.30 pm, Kalmeshwar at 7 pm and Saoner at 8 pm on Thursday.
The Yatra will resume from Saoner on Friday morning at 10 am and reach Khapa at 11 am, Parseoni at 1 pm, Ramtek at 2 pm, Mauda at 3.30 pm, Kuhi at 5 pm, Umrer at 6 pm and Narsala at 6.15 pm. It will reach Nagpur via Hudkeshwar Road at 7.30 pm and the Kalash will be handed over to BJP office-bearers at Mangalam Karyalaya.
On Saturday, the Yatra will travel across the city. An all-party meeting to pay homage to Vajpayee has been organized at Kavivarya Suresh Bhat Sabhagruh at Reshimbagh at 4 pm. Chief Minister Devendra Phadnavis and Union Minister Nitin Gadkari will be present in the meeting.
On Sunday morning, the Asthi-Kalash Yatra will move to Kamptee and the mortal remains will be dispersed at Mahadev Ghat at 9 am. The second Asthi-Kalash Yatra was to start from Selu on Thursday at 11 am and it is scheduled to travel different places before reaching Bhandara, where the Asthi-Kalash will be dispersed on Saturday.
The third and fourth Asthi-Kalash will also be dispersed after travelling from Tivsa to Mujhri and from Malkapur to Khiroda respectively. This was informed in a press conference by BJP state vice-president Chainsukh Sancheti and state general secretary Ramdas Ambatkar.