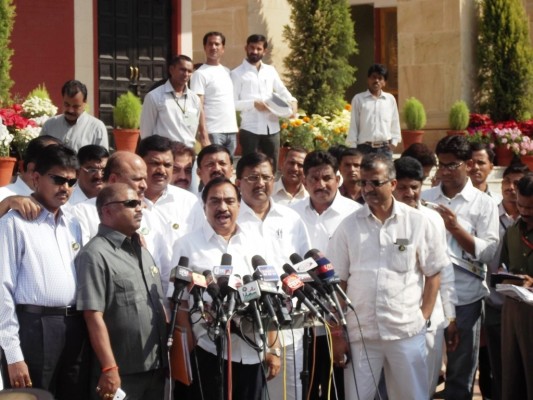 Nagpur News: Opposition marred the proceedings of Vidhan Sabha on the fourth consecutive day over the demand to order SIT probe into the alleged irrigation scam. The Speaker, chaired by Nawab Malik, though invited shouting Opposition leaders to discuss on the irrigation scam along with the white paper presented by the government, but the members insisted that SIT probe shoulb be ordered first. Seeing no way to tame the situation, the Speaker called off the assembly proceedings for the rest of the day.
Earlier, the Chief Minister Prithviraj Chavan along with the Leader of Oppostion Eknath Khadse paid tribute to the bereaved Pandit Ravishankar after the former brought the proposal for the same.
Later, Mumbai MLA Aslam Sheikh informed about the adverse situation in Mumbai in the wake of an objectionable stuff pointing certain community posted on social networking site Facebook.
Sheikh urged the Home Minister to check the activity with immediate effect to avoid any serious event. The Speaker also directed Home Minister to look into the matter with serious concern.
Soon after this, Opposition leader Eknath Khadse raised the demand to conduct SIT inquiry into the irrigation scam which was opposed by the NCP leaders led by party MLA Jitendra Awhad.
Meanwhile, Home Minister RR Patil said that had the Opposition wished, the discussion could have been held on the said scam and white paper under rule 293 but the it only intended to create ruckus in the assembly.
Following Patil, the Public Works Minister Chhagan Bhujbal went on to say that Opposition is creating uproar because it wanted the assembly to be adjourned early so that the leaders may walk towards the VCA stadium to enjoy ongoing cricket match.
This agitated the Opposition leaders prompting the Speaker to adjourn proceedings for 15 minutes. When the work resumed, Khadse again put up that if the government intends to probe BJP-Shiv Sena then they are welcome but why is it reluctant to probe the series of scams committed during its tenure.
Upon this Patil defended saying that the Opposition was ready to discuss the scam till yesterday but why it changed its mind today.
Maharashtra Navnirman Sena Leader Bala Nandgaonkar also demanded ordering SIT probe before starting the discussion.