Update @ 11.45 am : Voting picks up in entire Vidarbha; Bhandara-Gondia peaks at 22%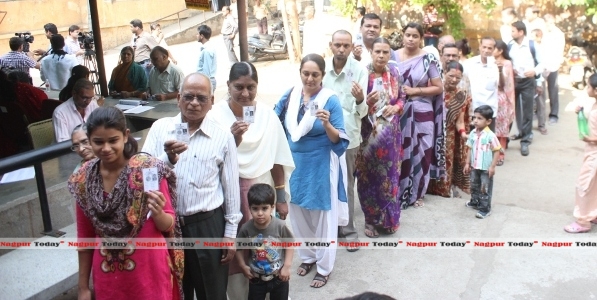 Nagpur News.
Voting process has picked up pace at all the polling booths in Nagpur and entire Vidarbha which went for exercising their rights as the first phase of voting kick started on Thursday. By 11.45 am, Bhandara-Gondia Lok Sabha constituency registered the highest turnout of voters at 22% following by Gadchiroli-Chimur Lok Sabha seat which witnessed 21.3% polling around the same time. Nagpur kept voting and stood at 17.8% by this time. Meanwhile, voting also began at Risod assembly seat which also voted for by-election there. By 11.45 am Risod registered 17% votes.
Nagpur Today takes a brief account of voting trend across various Lok Sabha Constituencies in Vidarbha.
Update till 11.45 am
1. Buldhana – 17.00%
2. Akola – 18.00%
3. Amravati (SC) – 15.63%
4. Wardha – 13.00%
5. Ramtek (SC) – 14.56%
6. Nagpur – 17.80%
7. Bhandara-Gondia – 22.00%
8. Gadchiroli-Chimur (ST) – 21.30%
9. Chandrapur – 16.64%
10. Yavatmal-Washim – 16.16%
Assembly By-election
33 – Risod – 17.00%