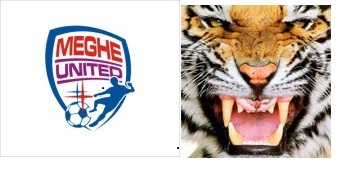 Nagpur Sports News: Meghe United and Gupta Tigers played out  a goalless draw in their group one match of Lokmat's Nagpur Premier (NPL) Football Tournament at Yashwant stadium on Saturday.
With this draw, Meghe United have four points to their credit after playing two matches. On the other hand, Gupta Tigers earned two points in two draw matches.
Had Gupta's Nigerian striker Uzor Onyekachi converted the opportunities the result would have been in favour of them. The speedy and energetic striker had missed half dozen opportunities.  Secondly goalkeeper of both the teams Owais Khan (Gupta Tigers) and Chetan Dawdhuria (Meghe United) denied scoring opportunities to the forwards.
In the first half, Gupta Tigers had maximum ball possession. Their defenders also tactfully succeeded in controlling strong forwards of Meghe United who looked of coloured initially.  Tigers Nigerian striker Uzor narrowly missed the target on two occasions. In the 10th minute he was unlucky to score on solo effort from left flank.
The first major attempt for Meghe United came in the 35th minute but thanks to Gupta custodian Owais Khan who brilliantly saved an attempt of Moroccan Yunus on the cross of Aziz Qureshi.
In the second half, Meghe's Moroccan striker Gazi's spectacular bi-cycle kick missed the target on Azhar Jamal's pass. Aziz Qureshi who played an important role in Meghe's victory over Baidyanath was totally off coloured. In the 62nd minute Rahul Bante's powerful left-footer missed the target for Gupta Tigers.
In the very next moment Uzor had almost scored much awaited goal but unfortunately ball dashed against cross bar. Then Meghe United goalkeeper Chetan  Dawdhuria brilliantly saved his attempt.
Goalkeeper of both the teams Chetan Dawdhuria and Owais Khan were declared best players.
In the 72nd minute now it was a turn of Gupta Tigers goalkeeper to come to the rescue of team. He brilliantly blocked the attempt of Faizal on right cross of Yunus.
Earlier centre head of Wockhardt K Sujatha Agrawal, managng director of Hotel Centre Point Micky Arora and Angad Arora were introduced to the players.