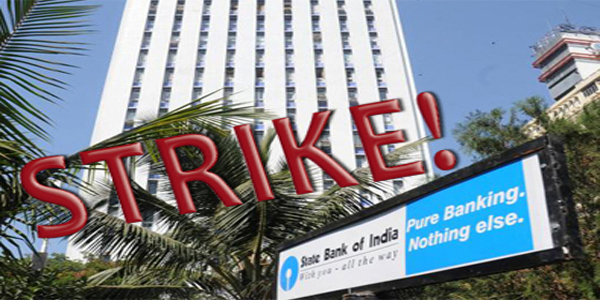 Nagpur News : Bank unions have called for a two-day strike from February 21 as a protest against government's overall policy outlook, including on issues other than those related to banking sector. The strike is being called by United Forum of Bank Unions (UBFU), said a press release issued by National Organization of Bank Workers (NOBW), one of the constituent unions of UBFU. This is an umbrella organization of all employees' associations in public sector banks.
 NOBW's press release says that the strike is to protest against government's economic polices. The current policies are faulty, against common man's interest and tend to hamper labour movement in banking sector, it said. There have been attempts to curb trade unionism in banks like State Bank of India and IDBI Bank apart from other financial institutions, claimed the press release.
 NOBW has called for measures to contain price rise and generate employment. The union's demands include a common social security for organized and unorganized workers, and creation of a national social security fund. The union is also against disinvestment in central and state public sector undertakings.
 NOBW also wants the government to remove all ceilings on payment of bonus, provident fund and an increase in the quantum of gratuity. It also wants the Minimum Wages Act to fix the basic wage at Rs 10,000 a month, linking it with the cost price index.