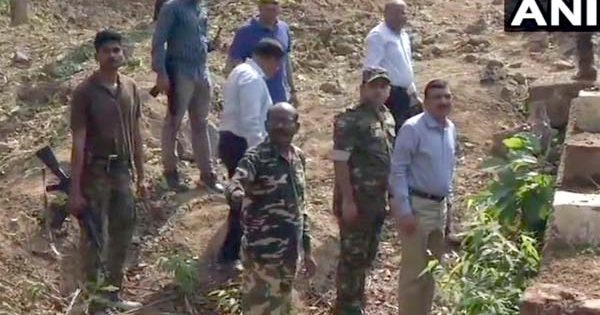 Nagpur/Gadchiroli: Union Minister of State for Home Affairs Hansraj Ahir, Director General of Police (DGP) Subodh Kumar Jaiswal, Superintendent of Police Shailesh Balkawde and other senior police officials on Thursday visited the spot where 15 Commandoes of C-60 Force were martyred as Naxals triggered an improvised explosive device (IED) blast and blew up a police vehicle at Kurkheda near Jamurkheda in Gadchiroli district on Wednesday.
Earlier in the morning, Naxals had set on fire 27 machines and vehicles of a road construction company in Kurkheda. Following the arson, a team of C-60 Commandoes was proceeding to the spot in a police vehicle for security operation. Midway, Naxals triggered an IED blast and blew up a police vehicle at Kurkheda near Jamurkheda killing the Commandoes. Six of martyred Commandoes hailed from Gadchiroli, three from Bhandara, two from Buldana and one each from Nagpur, Hingoli, Beed and Yavatmal.
Meanwhile, after the dastardly attack, Naxalites put up banners and warned government of more attacks. The banners, put up by North Gadchiroli Divisional Committee, asked the government not to construct bridges and roads in Gadchiroli district. The banners also protested killing of 40 Naxalites by security forces at Kasnasur encounter last year in April and encounter of Kamla Narote alias Ramko who was divisional commander of Gatta Dalam in Koti jungles of Bhamragarh Tehsil and a Dalam member Shilpa Dhurva on April 27, 2019.