Do you like to know everything that's buzzing in Nagpur? Like our page to stay updated!
[supsystic-slider id=225 position="center"]
Recently a foodie friend commented to me "Nagpur food has become so monotonous! Every curry has overtones of 'Saoji' and is spicy and oily. The only other option is Punjabi butter masalas: butter chicken and PBM. Starters are few and so predictable. Where is Mughlai food? Exotic Oriental? Crispy Continental?"
I thought about it and nodded in agreement.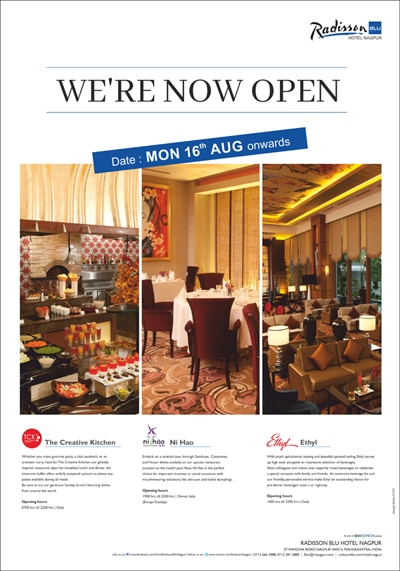 "Right you are! Sad situation…" I replied.
And then we got to know about the new outdoor restaurant on Saoner by pass road, despite its location it is not a dhaba or a simple garden restaurant – it is fine dining but without the fancy bills! I am refering to Navneet Singh Tuli's Under the Moon.
The name really caught our imagination and the place is beautiful… though right now, covered for protection from the rains. It is managed completely by young Rabjyot Tuli, Navneet's son, who is as passionate about food as his father! In fact last evening, we found the whole family there, intermingling with all guests, making them feel welcome and discussing food to order.
Despite it being a Tuesday, the large place had many groups of diners seated at various tables. There was music, and a dance floor to, for people so inclined.
We were served a plethora of starters like Egyptian mushrooms, Prawn satay, Mutton Bihari chops, Boti kebabs, Dahi ke kabab, Rice dumplings and the crispiest boneless fried fish, continental style.
For main course there is the old but not forgotten Nargisi kofta, Pomfret fish in continental style, Murgh Mussalam and many such dishes.
In rotis, apart from the tandoori roti and naans, there is 'choor choor ke naan' which was so different and savoury.
This place is a find – and definitely deserves this lengthy review!
I could write more, but hey! Go check UTM ( Under The Moon) for yourselves, you will be just as thrilled!
Address:
Kalmeshwar Katol bypass road, Kalmeshwar.(About 25 to 35 Kms from anywhere in Nagpur)
Contact:
7796096060, 9607442244