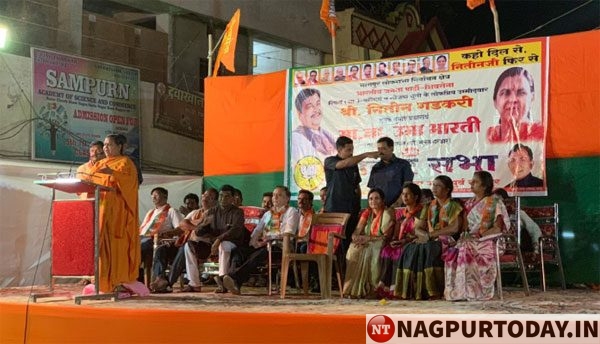 Nagpur: Even as top leadership in BJP ponders over Ram temple issue as the prominent poll projection, party's national vice-president Uma Bharti has steered clear that building Ram temple is matter of faith and not a poll issue for the coming Lok Sabha elections.
She however took a dig at Congress leader Priyanka Gandhi who recently visited Uttar Pradesh. She said Gandhi did go to Ayodhya but did not visit the Ram Lalla sheltered there in a temporary structure.
She said now people must decide which side to stay, either with BJP which is committed towards building the temple or support a party which is not at all interested.
It may be mentioned that Bharti consolidated her political career with the Ram Janmabhoomi movement. She was in Nagpur on Tuesday to address a conference of Lodhi Kshatriya community and to take part in campaign meetings for Nitin Gadkari, the BJP candidate from the city.
When asked if Gadkari would be the choice for PM in case the BJP does not get a clear majority, she evaded a direct answer.
All she said was that the party was facing elections under Modi's leadership and the whole country has made up its mind to give him another chance as PM. "Gadkari is precious and has emerged as top performer in Modi government. He has a lot of work on his hands," added Bharti. Denying that she had taken political sanyas, Bharti said it was her decision not to contest the elections this time. "But I am sure to be back in Lok Sabha in 2024," she said.