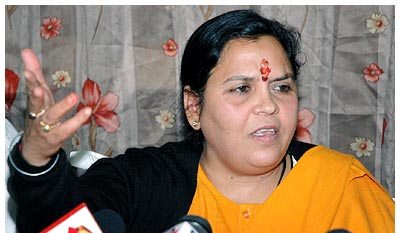 Nagpur News:
The firebrand BJP leader Uma Bharti has called Bollywood actor Raja Murad a "C-Grade Hero." The BJP leader was commenting on remarks of Raza Murad against Gujarat Chief Minister Narendra Modi at a function attended by Madhya Pradesh Chief Minister Shivraj Singh Chauhan in connection with Id celebration in Bhopal. "The mockery of Narendra Modi will not be tolerated by the party," Uma Bharti said.
"How could the C-Grade Hero reached the function attended by MP Chief Minister and indulge in mockery of Narendra Modi in the presence of the BJP Chief Minister. I will raise the issue at the right time and at the right platform. That the saffron attire is not necessary while greeting Hindus on Deepawali and in the same way, the cap is not necessary to greet Muslims on id. All colours are graced by the National Tricolour," Uma Bharti said.
Uma Bharti was in Nagpur to meet the RSS leaders for some discussion.
Commenting on Defence Minister's U-Turn on killing of five Indian soldiers by the Pakistani Army, Uma Bharti said, "Antony changed his version under the pressure exerted by the Opposition."
"Durga Shakti is really Goddess Durga because she raised her voice against the Mining Mafia," the firebrand BJP leader asserted.