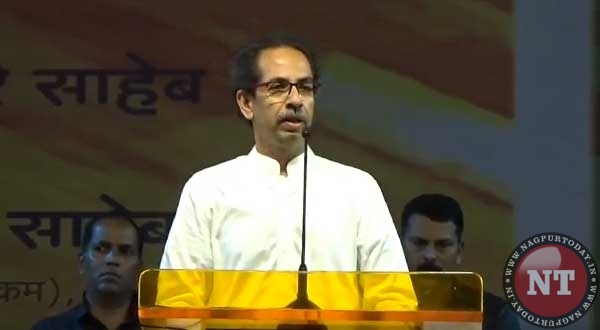 Nagpur: The flip-flops by the Shiv Sena President Uddhav Thackeray over alliance with Bharatiya Janata Party in the next Lok Sabha and Assembly election has put the party MPs from Vidarbha in dilemma. Uddhav had in the past announced to go solo and fight the elections on their own strength. However, in a party meeting held last week in Mumbai, the MPs from Vidarbha opposed the Sena supremo's move and stressed for alliance with BJP, sources said.
It a well known fact that Shiv Sena has no base in Vidarbha except in few pockets. The focus of Shiv Sena President is limited to Mumbai and its surrounding regions. The party is partner in BJP Government in State and at Centre. However, after coming to power, BJP systematically sidelined the interest of Shiv Sena. The Sena claims that the BJP has poorly treated it since then. This led to both parties contesting the 2014 State Assembly polls separately. Later, Shiv Sena supported the BJP Government and became partner. Now, the differences are on the issue of forming an alliance with the BJP for the 2019 general elections and Maharashtra Assembly polls. However, there are a few key party members including Vidarbha MPs who are keen on an alliance with the BJP.
If Shiv Sena fights the elections solo, the party will have to find 'winning' candidate in Nagpur, Gondia-Bhandara, Wardha Chandrapur, Gadchiroli, and Akola. Base of Shiv Sena at these place is 'Zero.' Hence a section of senior Shiv Sena leaders point out that it will be prudent to ally with the BJP, considering their party's strengths and weaknesses.
It may be recalled that there are 10 Lok Sabha seats in Vidarbha. With BJP alliance, the party got four seats as its share. Shiv Sena contested Washim, Ramtek, Amravati and Buldana seats and all its candidates emerged winners in 2014 Lok Sabha elections. BJP contribution in Shiv Sena's win was significant. However, the picture in Assembly elections was different. As both parties fought the polls separately, Shiv Sena could win only four seats as against 44 seats by BJP. Had there been alliance with BJP, Shiv Sena could have won at least 12 seats.
Keeping in mind the facts, the MPs from Vidarbha expressed apprehensions that if Shiv Sena fights the next Lok Sabha elections on its own, the party would fare badly in Vidarbha.