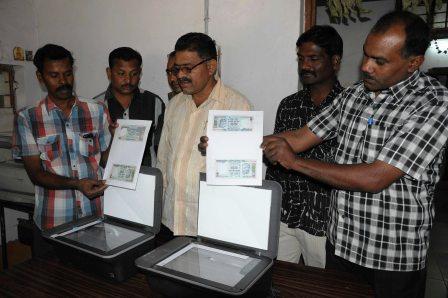 Nagpur: Ajni police on Saturday have arrested two persons for allegedly circulating fake currency notes and seized counterfeit notes worth Rs 15000 of 100 denominations from their possession.
Police said that the duo had no criminal background but it's suspected to have attempted at the illegal act to earn easy money.
Tipping-off the secret sources, Ajni police had set a trap near Spanco office at Tukdoji square where they caught Praveen Shirsat (20), a resident of Akash Nagar, with fake notes of currency Rs 100.
Later, during interrogation, Shirsat told about his crime partner Vicky Sahu, a resident of Shastri Nagar. Sahu was immediately arrested from near his residence. Two printers and scanning machines were seized from his house. Prima facie, it's learnt that Sahu is a mastermind behind the crime.
Shirsat told that Sahu had given him the notes to exchange them in the market. Hence, he had come to Tukdoji square.
Cops informed that Sahu would only make use of the printers and would make fake notes of currency Rs 100.
Cops suspect more people involved with the duo in the crime. "It's suspected that they might be circulating the notes to other involved in gang.
Few months ago, Rana Pratap Nagar police has seized counterfeit currency notes of lakhs of rupees and had arrested an engineer and his cousin in the case.