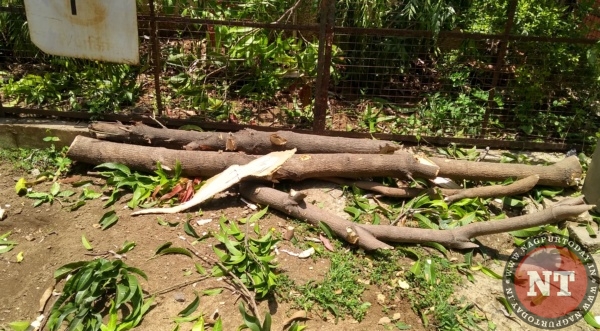 Nagpur: It's been barely 24 hours since Nagpur Today reported need of trees and casual approach of people towards environment in the city. However, in utter disregard, two mango trees were axed mercilessly in Shrinagar Colony, Narendra Nagar, on Tuesday morning.
"Around 11 am, we got call informing that a tree was being cut near Narendra Nagar. Soon, I called the NMC's Garden Department and along with my team I rushed towards the spot," said, Kaustav Chatterjee, Founder, Green Vigil Foundation.
The offender absconded soon after Chatterjee along with his team comprising Surbhi Jaiswal, Mehul Kosurkar and Kalyani Vaidya reached the Plot no. 113 Shrinagar Colony, Narendra Nagar. Subsequently, the team got information that one more mango tree was axed at Plot No. 115 of same locality. But Chatterjee and his team was only able to save trunk of that tree.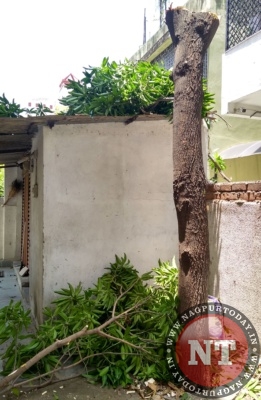 NMC Garden Department's Pranay Gondhane visited the location. While investigating matter, it came to light that both the house owners didn't had permission from Garden Department for cutting down a tree.
"We have submitted the report to Garden Department. Anshul Toshriwar and Digambhar Aate, the owners of Plot No. 113 and 115 respectively, who trimmed two mango trees, will be issued notices from NMC demanding explanation on their act. Only after which the further action will be taken" said Gondhane.
While asking on punishment or fine to the offenders, Gondhane said that, "Further action will depend on their reply but honestly I don't think that they will be penalized."