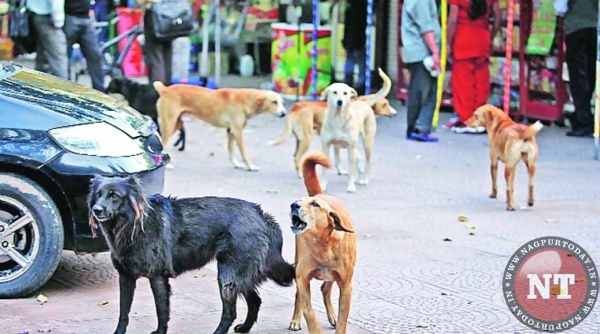 Nagpur: The stray dog menace continues to hound city of Nagpur as 9000 people on an average get bitten every year. And with the onset of monsoon, the menace is certain to increase to dreadful magnitude. The number of stray dogs is increasing in city with leaps and bounds as NMC babus and other concerned authorities turn a blind eye to the scourge.
According to data, around 80,000 stray dogs roamed on city streets in the year 2017. Complaints of most dog bites were reported in North Nagpur, Mominpura in Central Nagpur, Dabha in Wadi, Manewada, Hudkeshwar and other areas. NMC's exercise for sterilization aimed at controlling the number of stray dogs is dying a slow death since 2016 despite spending crores of tax payers' money.
The number of street dogs in almost every locality has gone up. The canines are are very aggressive like rabid ones. Complaints to Nagpur Municipal Corporation (NMC) were met with deaf ears as no action is being initiated to curb the menace. Most of the animal birth control (ABC) operations should have been completed before the beginning of next mating season. Only then the dog population could be controlled," said the residents.
The NMC, after taking severe beating from the residents and NGOs, had started animal shelters at Bhandewadi and Gittikhadan areas and undertook sterilisation exercise. But the Gittikhadan centre was shut down following vociferous protest from the local residents. NMC has now taken control of Bhandewadi centre in its own hands. But lack of sufficient place and shortage of manpower making the task difficult. In Bhandewadi animal shelter, the civic body has appointed three veterinary doctors on contract basis. Animal birth control operations as well treatment of wounded and ailing dogs are done here. But the exercise is proving futile.
According to animal activists, there should be at least four ABC centres in the city in all four directions. At least 30 dogs should get operated at every centre per day and NMC should first prepare an infrastructure to support this. If 30 dogs are operated per day at a centre, around 3,000 dogs will get operated in a month.
On problems faced by residents, activists said that effective sterilization will help in controlling the menace. "It will not only decrease the population of strays but will also control their aggression," they said.
The measures taken by the government and the municipal corporations in controlling the menace of stray dogs is not enough. NGOs are being paid to sterilize dogs but they are not doing anything on the ground, said the residents.
Data also shows that the number of people who have died is the highest in Nagpur. In the last six years, 106 people have died in Nagpur due to dog bites and 53,126 people were bitten.
The number of dogs that have been sterilized are incorrect, the NGOs fudge these numbers and still walk away with their dues. How is it that even if the dogs are sterilized, the number of stray dogs are increasing, the residents questioned.