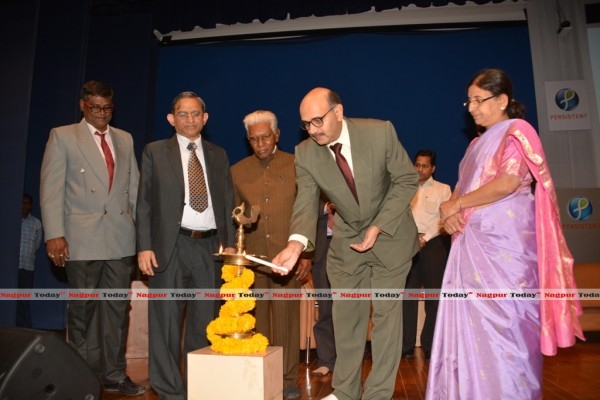 Nagpur News : The Department of Law and Physical Education jointly organized a two-day UGC sponsored National Conference on 'Sports Law' on 15th and 16th February 2014, as part of the Golden Jubilee Celebrations of Dr. Ambedkar College, Deekshabhoomi, at the sprawling venue of Persistent Auditorium, IT Park, Nagpur.
Chief Guest of the inaugural function Dr. Vilas Sapkal, Vice-Chancellor of RTM Nagpur University lauded the efforts taken by the organizers for identifying such a novel theme such as Sports Law which in turn would create impetus for inter-disciplinary research in this area. He also voiced his concern for professionalism in the area of sports saying that every competition should create new benchmarks.
Guest of Honour, Grandmaster Mr. Pravin Thipsay also congratulated the institution for entering the golden jubilee with such a novel theme . He cited, at length, the problems faced by sportspersons in the country. Talents are being laid to waste by dearth of opportunities, personal vendettas and grudge. Professionalism is the key word where India lacks in. The western countries have a very democratic attitude as far as sports is concerned in contrast to the Indian attitude to sports. Laws, he said can be twisted according to the needs of the players' back home, which needs to be strictly dealt with Drug abuse is another matter which needs to be firmly dealt with in addition to betting which is a cancer to sports. He hoped for the country to attain world standards if sports tribunals are set up and function without bias.
Dr. Vijay Singh, Dy. Director Competition Commission, New Delhi, keynote speaker, informed at length, about the jurisprudence in sports law and also about the different professional bodies associated with different games. He was of the opinion that problems arise when federations are empowered to create restrictions. There are many issues which need to be discussed and which would precisely be done in the various technical sessions later in the day and create new breakthroughs.
Earlier Principal of the college Dr. Mrs. Malati Reddy welcomed the guests and gave a brief assessment of the college and its proud achievements.
Organizing Secretary Dr. Hema Menon outlined the aims and objectives of the conference.  President of the conference, Shri Sadanandji Fulzele, Secretary of the Smarak Samiti also lauded the organizers for taking genuine efforts in organizing a seminar of such magnitude and wished them all success.
The proceeding of the conference was released at the hands of Grandmaster Mr. Pravin Thipsay.
Earlier the guests were accorded a floral welcome and presented with mementos. The inaugural function was ably conducted by Mrs. Varsha Deshpande whilst the vote of thanks was given by Shri N. M. Khirale, Head, Deptt of Law.
The technical sessions later in the day will be on topics such as: 'Law of Negligence and Duty of care with respect to Sports and Sporting Activities' by Ms. Weatherly A. Schwab, Asst. Professor and Asst. Director, Jindal Global Law School, Haryana and 'Competition law and Sports Administration by Dr. Vijay Kumar Singh Dy Director Competition Commission, New Delhi.