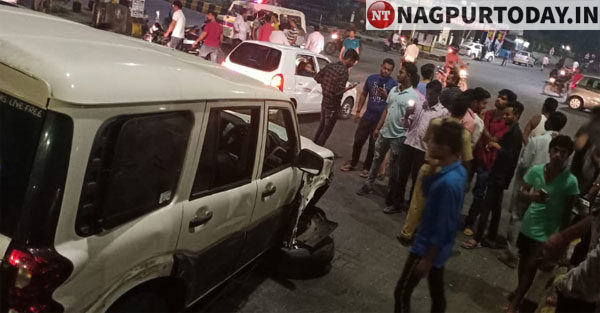 Nagpur: Overspeeding and rash driving have become a common sight on the overtly busy streets of Nagpur. Especially the cars bearing yellow plates appear to be in a hurry of winning the 'race'.
This not only causes traffic chaos but often results in fatal accidents. In a similar such incident, two speeding four-wheelers reportedly bumped into one another at Reshimbagh Square on Tuesday night. Both the vehicles were badly damaged but it was not immediately known if any casualty took place.
Onlookers informed that both the car and the suv were apparently being driven at very high speed, much higher than the permissible limit, when they bumped into one another.
The impact was so severe that the front areas of both the vehicles were severely damaged.
The car with yellow plate bears the number as MH 49 AT 9990.
More details are awaited.