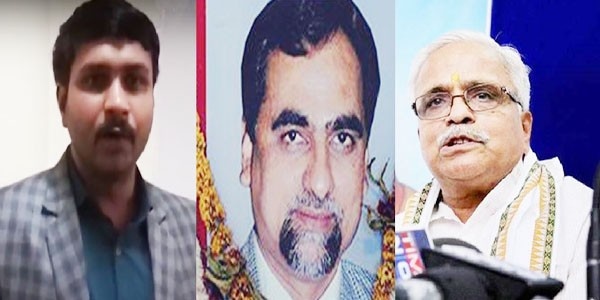 Nagpur: A sensational revelation in Judge Loya matter has come to light. Suryakant alias Suraj Lolge, who first filed a petition in Judge Loya death case, has said that he was working under the directives of RSS Sarkaryawah Bhaiyyaji Joshi, the Number 2 in RSS hierarchy. Suraj says he had never said about withdrawing the petition at any cost. With this revelation, Suraj also hinted at receiving money regularly from RSS. He has also said he met Bhaiyyaji Joshi several times in this regard, according a report published in 'Janchowk'.
According to the report, all these facts came to the fore in phone conversation Suraj Lolge had with an unidentified person. Notably, "The Caravan" Magazine had published a report demanding a high-level probe into death of Judge Loya quoting family members. The report was published on November 20, 2017. Immediately thereafter, Lolge had filed a petition in the Nagpur Bench of Bombay High Court seeking a probe into Judge Loya's death. When the matter reached Supreme Court, his petition along with other petitions was transferred to the apex court.
Following is phone conversation between Lolge and an unidentified person. The talk between Sule (imaginary name) and Lolge clears the picture. The original discussion is in Marathi.
Sule: And the RSS is telling you to withdraw the case (Loya case). Then!
Lolge: Which case?
Sule: What did you say? RSS did not tell you to withdraw the case.
Lolge: Yes, yes, yes. I have been directly told not to withdraw the case.
Sule: Aare Bhai, why should RSS men tell you such thing?
Lolge: Absolutely saying this. That is why I am telling you.
Lolge: Who told you? What, nobody told you?
Lolge: Bhaiyyaji Joshi told me through Kothekar. Hence I am…
Sule: What did he say?
Lolge: He said, don't withdraw, Suraj. You will be pressured but do not succumb.
Sule: Which case?
Loge: Judge Loya case.
Sule: Ok.
The conversation does not stop here. Suraj Lolge further reveals not only his direct connection with Bhaiyyaji Joshi but meets him regularly whenever needed. Suraj also hints at receiving money from RSS.
Sule: What happened to your RSS men? Have they phoned you or deserted you?
Lolge: No, they are with me. There is no doubt, Bhai.
Sule: Hmm, hmm, hmm.
Lolge: Hmm
Sule: Are they meeting you or not?
Lolge: Yes, they are meeting me.
Sule: Who? But are they meeting you directly or indirectly?
Lolge: Bhai, met directly.
Sule: Who were there?
Lolge: Meeting takes place through Upendra Kothkar. He was in Nagpur that day.
Sule: Who?
Lolge: Bhaiyyaji Joshi.
Sule: Have you met him?
Lolge: Bhai, my meeting with him is not directly. I have to talk to him through one!
Sule: Hmm, hmm. I did not understand. Means, whenever you go.
Lolge: Wherever I go, a direct meeting takes place through Kothekar. Our talk takes place. He is a big personality. Security is around him. Id he meets me directly, it will be in people's focus.
Sule: Security?
Lolge: Bhaiyyaji Joshi too has security.
Sule: Why him?
Lolge: There is security, Bhai. He is Sarkaryawah. He has also police security.
Sule: Is he also prominent?
Lolge: Of course. It is No. 2 position in RSS hierarchy.
Sule: Then how contact happens?
Lolge: Phone.
Sule: Hmm, hmm, hmm. Ok. Let it be. But he should at least tell you…
Lolge: What, Bhai?
Sule: Support. Have he not told others to support you?
Lolge: Yes, yes. It is not topic of discussion.
Sule: Hmm, hmm.
The conversation clears the picture when Suraj Lolge's photographs with Chief Minister Devendra Fadnavis comes to light. It also reveals he is a BJP member from the beginning. Photographs and documents in this regard too have come to fore. It is even being said, Suraj Lolge had completed 3-year training with RSS. His mother too was member of BJP. Both had sought Corporator ticket from their area in the past. Lolge's photograph with Fadnavis dates back to 2013. Suraj is seen delivering speech at many places along with Fadnavis. At one of the banners, Lolge's name along with his mobile number has been written as organiser.