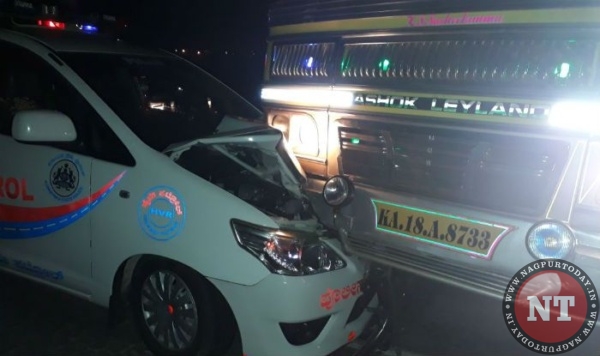 Bengaluru: Union Minister of State for Skill Development and Entrepreneurship Anantkumar Hegde, who had escaped unhurt after a truck hit his escort vehicle on Tuesday, claimed a threat to his life after the accident. Anantkumar Hegde called a press conference on Wednesday evening, apparently to speak on "attempt to kill him". However, a major twist came when the investigation revealed that the truck in question was owned by the brother of a Bharatiya Janata Party (BJP) member. Following the revelation, Hegde canceled the press conference without giving any reason.
According to the initial investigation, the truck in question was owned by one Nagesh, a resident of Koppa in Chikmagalur. Nagesh is the brother of Ramesh, the block president of the BJP in Koppa taluk. Moreover, the local police also refuted Anantkumar Hegde's claim of an assassination attempt said prima facie there was nothing to indicate the same. "The driver was reversing his vehicle in Halageri on a bypass road. He had missed a turn and started reversing. While doing so, he hit the police escort vehicle," the police was quoted as saying.
In a series of tweets, Anantkumar Hegde on Tuesday said the truck first tried to hit his car and later rammed into his escort vehicle. "I suspect a serious attempt on my life looking at the incident as it doesn't make an accident. The driver has purposefully tried hitting our vehicle and then hit our escort vehicle. As our car was running in good speed we passed before he could ram us," the union minister said in a tweet. Hegde also shared a video from the spot and pictures which include a photograph of the truck driver, who has been identified as Nasir.
"The vehicle had been driven in the wrong direction and was parked right in the road horizontally. As soon as our convoy approached he has driven in great speed and had tried hitting our car," Hegde alleged. "I urge the police to take the case seriously in spilling the truth out from this guy named Nasir. There might be a bigger nexus behind this incident and am sure Police would expose all of them," the BJP leader said. The driver was arrested immediately after the incident. The impact of the crash was such that his support staff in the escort vehicle suffered injuries.