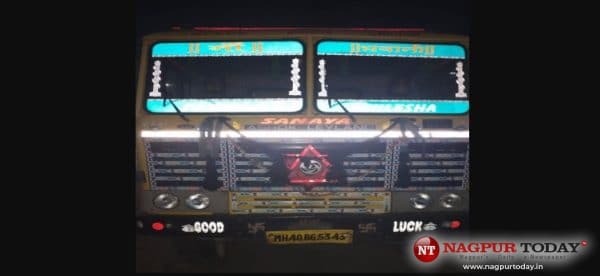 Nagpur: Panchpaoli police seized a truck ferrying illegally mined sand without government royalty and arrested the truck owner and driver.
Acting on secret information, a team of Panchpaoli police laid a trap near Hope Hospital, Kamptee Road around 12 noon on Tuesday. Around 12.30 pm, the cops spotted the truck (MH-40/BG 5343) coming speedily from Kamptee. The truck was stopped and checked. Cops found sand loaded in the truck and asked the driver about papers of government royalty. But the driver failed to produce royalty papers. Subsequently, police called the owner of the truck and also asked him about government royalty. The owner confessed to illegally mining the sand from Bina Ghat.
Cops seized the truck worth Rs 16 lakh and the sand worth Rs 17,000. The accused truck owner Dinesh Natthuji Bhadang (40), resident of Bina Sangam, Ward No. 2, and the driver Rajjan Bhuralal Maeaskolhe, resident of village Sajpani, district Seoni (MP) have been booked under Sections 379, 34 of the IPC and put behind the bars.
The action was taken by Senior PI Sanjay Mendhe, PI (Crime) Ravi Nagose, API Chandrakant Kose, PSI Avinash Jaybhaye, NPC Vilas Chavan, Sepoys Rahul Lokhande, Nitin Lokhande under the guidance of DCP Zone 3 Lohit Matani and ACP Sachin Thorbole.